Firefighter EQ: How 1 department tackles conflict resolution in academy training
Emotional intelligence and conflict management skills are critical components of fire service leadership
---
Another round of continuing education (CE) at the Fairfax County (Virginia) Fire and Rescue Academy has concluded, with over 1,500 personnel trained and approximately 7,500 hours of training delivered to our members.
Without the commitment and dedication from each department section, along with the numerous program managers, teaching adjuncts, and the open dialogue from the students, this program would not have been a success.
But how did we get here – and what did we cover?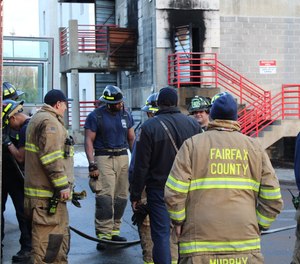 The FORCE 4 origin story
What began as a parody inspired by the many superhero movies evolved into a conversation that quickly gained traction in our efforts to better recognize the great work that our staff puts into our training programs.
Fairfax County Fire & Rescue Department's Training Division is comprised of four primary sections:
Field Training
Professional Development (Officer Development)
Recruit Training
EMS Training
As part of these sections' formal and collaborative joint-training effort, we came up with the acronym FORCE (Field, Officer, Recruit, Collaborative EMS) and the number 4, representing the four training sections – hence FORCE 4.
And with that, the academy staff changed the program name from Emergency Medical Services Continuing Education Program (EMSCEP) to FORCE 4.
With the name now in place, we should probably explain the why.
Enhanced collaboration in training
The first round of FORCE 4 was a pilot delivery session that allowed our training academy to condense EMS CE and Operations Academy Rotation (OARs) training into a single training session that reduced the overall impact to our field operations, while at the same time returning valuable training dates to our battalions. The more important piece to this – and to further define the why – is that the new training format would allow the four sections to continually collaborate, and ensure that the training is relevant, consistent and value-driven, and that it eliminated long-standing boundaries between groups.
The training topics for this session were Fireground Skills (rural water supply, Max Fire Box with thermal imaging camera use), the ZOLL X Series Monitor Rollout, Conflict Resolution, and Rapid-Fire Tactical Simulations. Each is tied to CE or company officer training hours, directly maintaining our agency ratings and accreditation.
Conflict resolution in focus
For the Professional Development section, our focus was conflict resolution along with company officer rapid-fire tactical simulations.
While developing the content package for conflict management, we experimented with numerous ideas and concepts and were initially focused on explaining our six-step process for managing conflict. The first three steps in the process are focused on preparation, and the latter half on implementation.
The process was developed through a collaborative effort between our Professional Development Team and Fairfax County Office of Alternative Dispute Resolution. See the diagram below for what has become our department's accepted standard for managing conflict.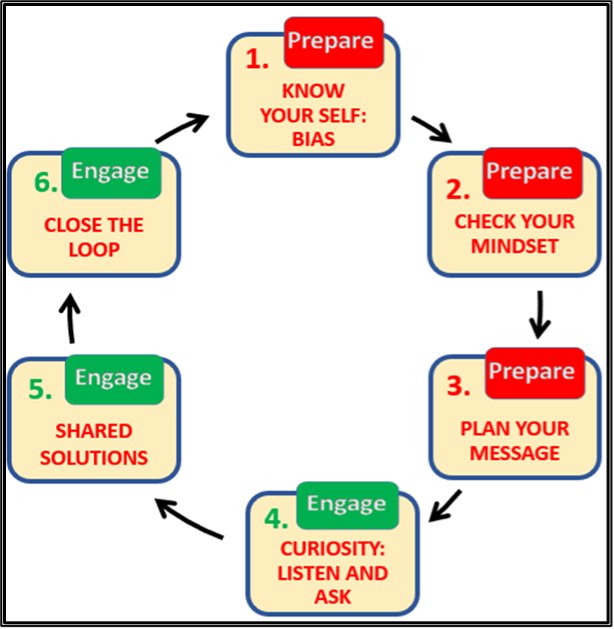 The concept was simple: Develop and deliver a training block on conflict management. However, we found that the curriculum could not be condensed into a one-hour block. After weeks of changes and modifications, we were quickly approaching our first training date – and still no finished product.
With two days remaining before going live with our training, we decided to bring the team together along with several academy adjuncts to brainstorm a training product that was highly relevant and value-driven. After several hours and numerous revisions, we finally developed a product focus that we felt was one of the essential building blocks to conflict management training – Emotional Intelligence (EQ).
What started as an introduction to our six-step process for conflict resolution transformed into a focus on explaining our definition of leadership and emotional intelligence. There are many definitions of leadership and even more variations on leadership styles; however, within our section, we wanted to underscore that the following definition would always be a part of the instructional dialogue any time we have a course offering.
Tactical Mastery + Emotional Intelligence = Leadership
Key aspects of EQ for firefighters
I do not doubt that we in the fire service have a good understanding of tactical mastery; however, can we explain to others what Emotional Intelligence (EQ) is and how it can be applied to the fire service?
In Daniel Goleman's article "What Makes a Leader?" he describes the five components of EQ: empathy, social skill, self-awareness, self-regulation and motivation. Our training discussed the three components that we felt were personal traits or, more appropriately, focused on the individual: self-awareness, self-regulation and motivation, with self-awareness being the keystone in the model below.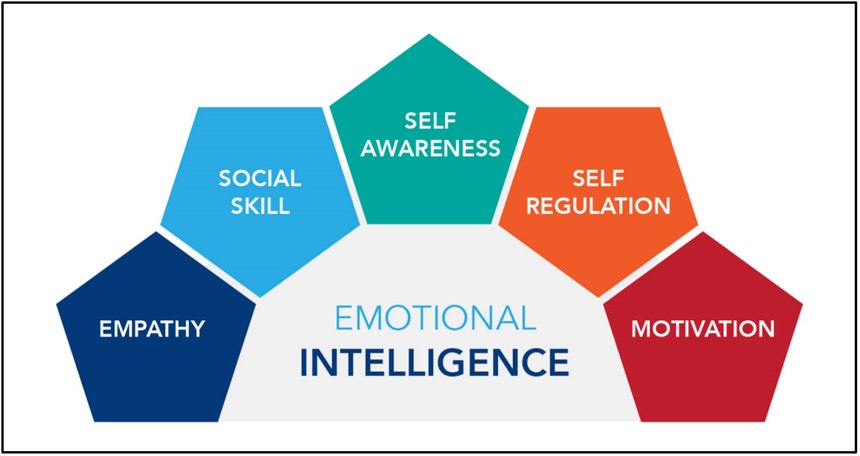 Self-awareness: Self-awareness is understanding one's emotions, strengths, weaknesses, drives, values and goals, along with having a profound consideration of their impacts on others. This awareness piece often escapes us. How is my attitude, behavior, mannerisms and actions affecting those around me? Am I a toxic leader? Do I disparage others? Do I silence those around me? Do I have a fixed mindset? Have I negated a psychologically safe working environment? Is my impact positive and aligned with coaching and mentoring, or is my impact negative based on many everyday factors?
This is where a realistic self-assessment needs to take place, and the focus should be on recognizing your best attributes, along with behaviors that challenge your character. Additionally, seek out constructive, honest feedback, not criticism, that provides a mechanism to modify or correct prior actions and ultimately leads to a greater sense of self-awareness.
Part of our pre-course work that we assigned for this training was the Kirwan Institute Implicit Bias Module series. The purpose behind the training was to explore biases and learn strategies for addressing them. Becoming self-aware of our own biases and the decisions/actions that are most likely to be influenced by our unconscious processing is a key first step in developing strategies that prevent bias and adverse outcomes. This was a leadership development tool to guide our personnel through a positive decision-making process while increasing their awareness of possible implicit biases.
Self-regulation: The next topic was self-regulation, the ability to understand and manage your behaviors, reactions, emotions and impulses. To help explain the process, we compared self-regulation to a hazmat incident that involved a radioactive response, using the factors time, distance and shielding.
Unlike an emergent event, we have time to manage conflict and engage in meaningful conversation. One way to quickly escalate any conflict is to immediately react negatively without evaluating and cognitively processing what has transpired. There are times when even the best leader reacts with negative emotions, followed by the realization that those actions or words were not appropriate – the proverbial foot in the mouth.
Distance quite literally means the ability to separate and gather their thoughts. It also offers the opportunity to approach the conflict in a new way that sheds light on options and alternatives instead of immediately reacting with anger and negativity. Of course, in our profession, the ability to distance is somewhat limited by the inevitable sounding of the firehouse tones.
The shielding component stems from taking care of your personal needs before engaging in conflict. We used the acronym HALT to help identify one's physical and mental well-being before engaging in a conflict:
Hungry
Angry
Lonely
Tired
These are physical or emotional conditions that must first be identified and then addressed or remedied by the individual. Simply put, if hungry, then eat a Snickers; if angry, go workout; if lonely, then talk to a friend; and, of course, if tired, take a nap. We all know how important rest and nutrition are in our profession, and our current workload through the pandemic has only exacerbated our stress levels.
Motivation: Goleman identified four elements of motivation:
Success
Commitment to goals/initiatives
Optimism
Resilience
Being motivated to address conflict is a good thing. As individuals who routinely solve problems for our community, a conflict between individuals is simply an opportunity to collaborate and work through a problem. The result of motivation is open and honest discussions instead of conflict avoidance, which promotes resentment and animosity, and erodes the overall trust of the team.
The commander's intent message
To further supplement our training session, Fairfax County Fire Chief John Butler recorded a commander's intent message to emphasize the importance of our training. The message was simple: Discussing topics such as emotional intelligence and implicit biases empowers our members to cultivate change and address hard topics at the lowest levels. This cultural shift empowers all our members and prioritizes the development of their soft skills or, more appropriately, their "human skills."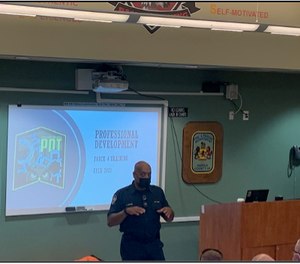 The totality of training
Emotional intelligence does not usually rate as a top 10 fire service training subject. But from our perspective in the Professional Development section, we view the totality of training as our priority. In other words, it's not just about psychomotor learning but also embracing the cognitive learning process. Our training sessions have become conversational, and we make every attempt to foster an interactive dialogue among the students.
Conflict management and understanding emotional intelligence are essential elements of leadership. Today's leaders must exhibit various characteristics to be effective coaches and mentors. Managing conflict and having a good understanding of EQ should be considered quality characteristics of a well-rounded leader who can effectively influence and guide their team.
A team success
As noted, Force 4 concluded with over 1,500 personnel trained and approximately 7,500 hours of training delivered to our members.