Fla. county rejects vaccine mandate for first responders, offers monetary incentives
The proposal faced pushback from several Brevard County commissioners and the local fire union
---
By Laura French
BREVARD COUNTY, Fla. — Commissioners in a Florida county shot down a proposal this week that would have required county firefighters and EMS providers to receive the COVID-19 vaccine. 
Brevard County Commissioner John Tobia raised the proposal Tuesday, saying he received an email from county Health Director Maria Stahl warning that unvaccinated EMS providers could possibly transmit the virus to patients, according to Click Orlando. However, the proposal never went to a vote due to opposition from other commissioners.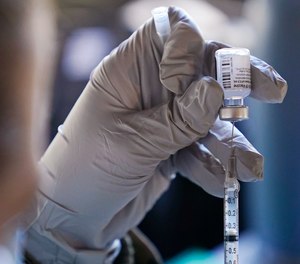 "The bottom line is, I'm not going to force a needle into someone's arm without there being an incredible set of extenuating circumstances, and we're not even approaching that here," Commissioner Bryan Lober said during the meeting, according to Click Orlando. 
Commissioner Curt Smith also opposed the mandate, saying he supported first responders getting the vaccine and would encourage them to do so, but that it should ultimately be their own choice. 
Commissioners had previously approved a proposal in December to pay county first responders $75 for each dose of the vaccine they receive, Click Orlando reported. 
Tobia argued that the mandatory vaccination of first responders was in the interest of the health and safety of the county and creating a condition for employment was not the same as creating a requirement for private citizens, nothing that he had been against a mask mandate for the general public. 
"Firefighters were not drafted. They have options to go elsewhere," Tobia argued during Tuesday's meeting, according to WFTV. "If they put their own concerns over that of the people they're sworn to protect, then I encourage them to go elsewhere." 
Brevard County Professional Firefighters President Michael Bramson also spoke at the meeting and was questioned by Tobia whether he was concerned about residents possibly contracting the virus from first responders. Bramson said he would not respond to that line of questioning, but said he was against the proposal because it would circumvent the negotiations process between the county and the union. Other first responders also spoke at the meeting in opposition of the mandate. 
A survey by the fire union previously found that about a third of respondents said they wanted to get the COVID-19 vaccine. 
Doña Ana County in New Mexico mandated COVID-19 vaccination for first responders in January, through a directive issued by County Manager Fernando Macias. 
The Los Angeles Fire Department (LAFD) and Decatur, Ga. have offered incentives for fire and EMS personnel to receive the vaccine.  Los Angeles firefighters and EMS receive entries to win prizes such as gift cards if they get the vaccine, while Decatur first responders are offered an incentive package that includes extra vacation time. 
Read more