Iowa fire dept. seeks taxpayer support to keep station open year-round
Waterloo Fire Rescue is seeking additional taxpayer support to keep its frequently "browned out" Station No. 6 open full time
---
By Tim Jamison
Waterloo-Cedar Falls Courier 
WATERLOO, Iowa — Waterloo Fire Rescue is seeking additional taxpayer support to keep its frequently "browned out" Station No. 6 open full time.
Fire Chief Pat Treloar wants another $83,000 in overtime in next fiscal year's budget to call back firefighters when staffing levels would otherwise force the station near Ansborough and Ridgeway avenues to shut down.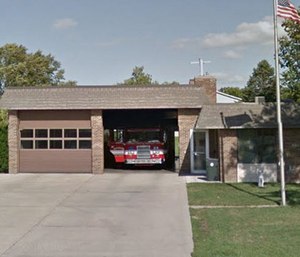 "That request is being made in an attempt to keep Station 6 open year-round," he said. "The thought there was that we ask for overtime instead of additional personnel."
Treloar and other department heads presented their spending plans to City Council members this week as part of the annual process to prepare and adopt a budget and tax rate for the fiscal year starting July 1.
Staffing and overtime shortages caused the fire department to close Station No. 6 for 151 full days and 26 partial days in 2018.
Treloar said those closures coupled with significant road construction projects caused his department's average emergency response time to increase by 15 seconds last year. The average response time was four minutes and 44 seconds.
"We feel that response time was still very good," he said.
Station No. 6 has been a public safety and political issue for years.
It closed completely after 24 years in 1993 due to mid-year city budget cuts that resulted in numerous city employee layoffs. It reopened in 1997 after Mayor John Rooff fulfilled a campaign promise and hired 10 firefighters.
The staffing levels have gradually declined due to budget cuts over the years, resulting in the periodic closures in recent years.
Councilman Pat Morrissey said he wanted to hire three more firefighters in next year's budget instead of boosting overtime.
"The fire department has been the target of staff reductions year in and year out," Morrissey said. "To me, that has ended. It's got to stop."
But Councilwoman Margaret Klein said adding staff raises taxes, which causes people to leave town.
"I'm not opposed to hiring people, but I am opposed to hiring people without first investigating every single available opportunity to do things a different way," she said. "I like to think outside the box."
Meanwhile, Treloar is also asking for another $65,000 to begin outsourcing the maintenance, repairs and servicing for portion of the department's ambulances and other vehicles.
The department currently gets its vehicles maintained by the city's central garage, which has been unable to keep up. A majority of the City Council eliminated a mechanic's position in the central garage two years ago.
"I'm telling you as policymakers we have a big issue or threat to the fire department with the condition of our fleet," Treloar said. "Our vehicles are not being maintained at the level they should be.
"We've got an ambulance that's been over there for four months. We've got a couple of fire trucks that have been sitting over there, one for 10 months, one for over three years."
The City Council must hold a public hearing and adopt the fiscal year 2019-20 budget by March 15.
Copyright 2019 Waterloo-Cedar Falls Courier 
McClatchy-Tribune News Service