LAFD deputy chief retires amid investigation into harassment allegations
Armando Hogan, a former spokesman for the agency, had been on administrative leave since Oct. 13
---
By Dakota Smith
Los Angeles Times
LOS ANGELES — A top Los Angeles Fire Department official has retired in the midst of a city investigation into allegations of misconduct against him.
Deputy Chief Armando Hogan, 61, retired effective Jan. 17, said LAFD Capt. Erik Scott, a department spokesperson. Hogan had been on administrative leave since Oct. 13 as the city investigated the accusations, Scott said.
"The department was made aware of allegations of misconduct and directed an investigation to be conducted," Scott said. "As this is an active investigation, the department will not comment further."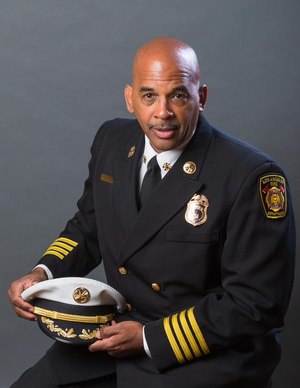 A message left at a phone number associated with Hogan wasn't returned Monday.
Independent journalist Daniel Guss reported in October that Hogan was under investigation for alleged sexual harassment. Guss reported last week that Hogan had retired.
A 40-year LAFD veteran, Hogan was named firefighter of the year in 2021 by the Los Angeles City Firefighters Assn. He worked as a battalion chief and assistant chief before being named deputy chief in April 2022, according to his LinkedIn profile.
The LAFD's three deputy chiefs report to LAFD Chief Kristin Crowley, according to a department organizational chart.
A one-time spokesperson for the agency, Hogan regularly spoke to the media and appeared at fires and other news events.
Hogan was a member of the Stentorians, a group of African American firefighters at the department.
Fire Inspector Gerald Durant, a member of the Stentorians, said Monday that he had no information about the allegations involving Hogan. "I feel bad about the whole thing," Durant said.
Sources told The Times that the allegations were made by a woman who worked with Hogan.
A 2021 Times investigation detailed allegations of bullying and harassment of female firefighters at the department. A 2019 survey of female members found that members had a positive experience in the recruit academy but reported widespread sexism once they deployed to fire stations.
Crowley, the first woman to lead the city's Fire Department in its 136-year history, promised accountability when she was chosen for the job last year.
"The intention here and now is to ensure that all of our members, both women and men, come to work and feel safe and feel heard," Crowley said. "If that type of behavior is occurring, that will not be tolerated. Period."
Ian Thompson, a spokesperson for City Atty. Hydee Feldstein Soto, confirmed Monday the city has hired the Law Office of Roberta Yang to look into allegations of misconduct relating to Hogan. The hiring was reported earlier by Los Angeles magazine.
This story originally appeared in Los Angeles Times.
©2023 Los Angeles Times.
Visit latimes.com.
Distributed by Tribune Content Agency, LLC.
McClatchy-Tribune News Service