Maine fire department loses fourth chief since June 2021
Curt Melcher, a 22-year veteran firefighter, was appointed interim chief of the Livermore Falls Fire Rescue Department on July 19 and resigned Friday
---
Donna M. Perry
Sun Journal
LIVERMORE FALLS, Maine — Another chief has resigned from the Livermore Falls Fire Rescue Department, the fourth one since June 2021.
Curt Melcher of Livermore Falls, a 22-year veteran firefighter appointed interim chief July 19, resigned Friday, effective immediately, Town Manager Amanda Allen said Tuesday.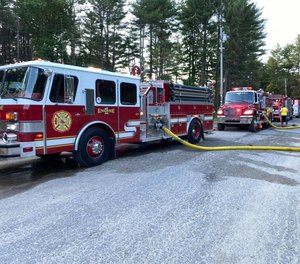 Melcher replaced Chief Mike Booker, who resigned June 30 but stayed until someone was appointed. Booker was appointed chief in January.
Deputy Fire Rescue Chief Scott Shink retired from service on June 30. He was appointed interim chief on June 29, 2021, when Edward Hastings IV left to return to work at the Office of the State Fire Marshal.
No one has been appointed as interim fire rescue chief, Allen said Wednesday.
"(Curt) was doing an amazing job," Allen said of Melcher.
Bobby Cummins is the assistant fire rescue chief.
___
(c)2022 the Sun Journal
McClatchy-Tribune News Service