Ohio FD faces discrimination complaint after firing recruit
Sierra Adebisi filed a complaint with the Ohio Civil Rights Commission alleging she was discriminated against based on her race and gender
---
By Kate Snyder
The Blade, Toledo, Ohio
TOLEDO, Ohio — The perception of discrimination at Toledo Fire & Rescue Department is a problem, said Fire Chief Brian Byrd.
But he believes that discrimination itself is not.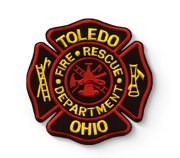 "I've been a huge proponent of diversity," he said.
Two weeks ago, former fire recruit Sierra Adebisi was terminated from the department hours before the rest of her academy class graduated. City records show she was cited for a variety of infractions in the lead up to her dismissal, ranging from the seemingly mundane — she is accused of covering her face during class — to instructors detailing in emails and interdepartmental communications concerns about her physical fitness level. One interdepartmental letter stated that she "could not complete one single push up correctly."
In complaints filed with the Ohio Civil Rights Commission, and, according to Earl Murry — a man who describes himself as Ms. Adebisi's "administrative representative" — the city's Office of Diversity and Inclusion and the U.S. Equal Employment Opportunity Commission, she alleged that she was discriminated against based on her race and gender.
That Ms. Adebisi's firing occurred right before graduation was unfortunate timing, Chief Byrd said, but ultimately administrators have to determine what is best for public safety and what is best for the firefighters.
"We have to consider everything from day one to the very last day," he said. "Our academy is a tough place. It's academically challenging. It's physically challenging."
Diversity within public safety forces is an issue at police and fire departments across the country, Chief Byrd said, and something that TFD is working to address. He defended the department, saying that the most recent class to graduate — Ms. Adebisi's former class — was one of the most diverse classes in decades.
Prior to that class, he said, the department had three black female firefighters. Now, it has six.
"Not that six is a lot, because it's not, but we doubled what we had," he said.
That class also saw three recruits, all minorities, terminated from the department — one of the recruits was Ms. Adebisi, and the other two were a black man and a Latino man, Chief Byrd said. The two male recruits were dismissed based on academic reasons.
A white recruit has not been terminated from the department since at least 2010. Since 2010, seven white recruits have resigned from the department during training, according to TFD records.
Randall Fuller, the male African-American recruit who was terminated from the department, filed a complaint against TFD with the OCRC on Aug. 19, according to OCRC records.
Last year, Major Smith III, another African-American fire recruit, claimed he was wrongfully fired and is currently suing the city over his dismissal. And in July, the OCRC found that Karen Marquardt, the department's first female assistant chief, was likely denied a promotion and later harassed because of her gender.
Chief Byrd said he understands the perception from the community and other city officials but he maintains that discrimination is not a problem at the department.
He would not comment on most of the details alleged in the complaint Ms. Adebisi filed with the OCRC, such as that she was repeatedly written up for not carpooling to work and that she was reprimanded for not showing up to work at 6:30 a.m., even though training did not start until 7 a.m.
On July 29, the carpool and 6:30 a.m. start time violations were rescinded by the chief after a grievance was filed by Toledo Firefighters Local 92, records show.
Her complaint also alleged that a white male trainee used the "N-word" toward another trainee and was never disciplined; Chief Byrd said that wasn't true and the trainee's actions did not go unpunished, although he wouldn't elaborate further.
Every week, Chief Byrd said he and his deputy chiefs have a meal at one of the fire stations and meet with firefighters to keep the line of communications open. If he received a report alleging discrimination among firefighters, it would be addressed, he said, but he's never received such a report.
He met with Ms. Adebisi before she was terminated, but he said the content of the meeting was her concern about passing one of her physical tests during training. He couldn't recall any issues of discrimination being discussed.
Mr. Murry said that isn't true and that Ms. Adebisi talked to him about her concerns related to discrimination. Mr. Murry also reiterated his belief that there was a pattern of discrimination at the department and that Ms. Adebisi was discriminated against.
The diversity level of the most recent class to graduate was achieved in part by an unofficial recruiting efforts by firefighters and officers at the department, Chief Byrd said. He emphasized that those efforts, which turned into a kind of recruiting/mentoring program, were made in their spare time, and he wants to make it an official department program. That way, every class going forward can be as diverse as the last one.
"That's what we have to change," he said.
———
©2019 The Blade (Toledo, Ohio)
McClatchy-Tribune News Service