Pa. fire dept. fundraising to repair deteriorating station
The Delaware Water Gap Chemical & Hose Co. #1 firefighters are often left without power, which delays response because they have to manually open the bay doors
---
By FireRescue1 Staff
MONROE COUNTY, Pa. — A fire department is hoping to raise hundreds of thousands of dollars to repair their deteriorating station.
PA Homepage reported that the Delaware Water Gap Chemical & Hose Co. #1 firefighters are often delayed in responding to calls because they have to manually open the bay doors when the power is out due to an old generator, which hasn't been replaced since the station was built in the 1960s.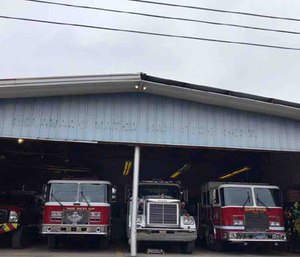 "Our bay doors, when there's no power, we can't get them up. So we have to manually open our bay doors, which takes some time to do," Chief Brad Miller said.
The power outages also prevent the trucks from being charged.
Mayor Larry Freshcorn said he is concerned about the safety of the community.
"My biggest concern is making sure they have the tools that they need to keep us safe," he said.
In the adjoining hall where firefighters hold fundraisers, the kitchen appliances do not work, the ceiling leaks and the floors are buckled from a water main break.
"There were about three inches of water in here last year, I believe," Miller said. "We can't provide for any of the homeowners. We have a small generator. If the power does go out, it's not going to light up the whole building,"
The department launched a GoFundMe page and is hoping to raise $200,000 to renovate the firehouse.