Dog leads responders to injured hiker
A canine hero led rescuers to an injured woman who had fallen 150 feet off a trail and was unable to shout for help
---
By Leila Fujimori
Honolulu Star-Advertiser
MOLOKAI, Hawaii — Like TV dog Lassie, a canine hero led rescuers to an injured 59-year-old Molokai woman who had fallen 150 feet off a Molokai trail and was unable to shout for help.
A friend came upon the hiker's dog and vehicle near the Kalaupapa lookout but found no sign of her. The missing woman's friends called the Maui Fire Department and met firefighters from the Hoolehua and Kaunakakai stations.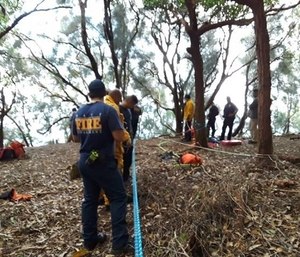 One of the friends brought along a different dog to help search for the missing woman near the lookout in Palaau State Park.
"When our crews pulled up, one of the captains on the scene suggested, 'Try run your dog,'" Maui Fire Services Chief Rylan Yatsushiro said to the friend.
So the owner let the dog loose.
The dog ran along the trail, stopped at a spot and sat down, Yatsushiro said. The dog looked down off the trail and stared.
Molokai fire rescue personnel were able to quickly spot the woman, who had fallen about 150 feet down a very steep incline.
"Per our crew it may have taken a while (to find the woman) had it not been for that dog," Yatsushiro said.
The woman was unable to move or respond to verbal communications.
Fire crews used a rope rescue system to bring her up to the trail.
The hiker suffered multiple injuries but was alert and well oriented when she was taken to Molokai General Hospital, the Fire Department said.
Copyright 2018 Honolulu Star-Advertiser