EMS Trend Survey seeks providers' input for 8th industry report
This year's survey touches on topics such as lights and sirens usage and treatment-in-place adoption, as well as recruitment and retention initiatives
---
By EMS1 Staff
FRISCO, Texas — The 2023 EMS Trend Survey launched Wednesday. The survey assists in the effort to gauge the direction of EMS and identify the obstacles and opportunities that are top-of-mind among providers, culminating in the What Paramedics Want in 2023 state-of-the-industry report later this year.
"This year's survey will bring back questions about lights and sirens usage, treatment in place adoption and intent to stay or leave EMS to allow for year-over-year comparison and to identify whether initiatives like the National EMS Quality Alliance Lights & Siren Collaborative have made a difference," said Kerri Hatt, editor-in-chief of EMS1.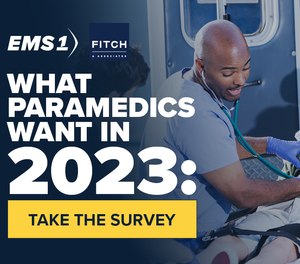 This year's survey is also focused on providers' satisfaction on the job and the availability of career advancement opportunities. 
"A major theme of the 2023 EMS Trend Survey focuses on recruitment and retention initiatives, including welllness support, to identify how staffing and stress impact career longevity," Hatt said.
Once the data is compiled, industry leaders will offer insight into the feedback from personnel and how agencies can use the information to make meaningful changes.
"Our expert panel takes a deep dive into the data, identifying the areas where concrete action steps can help agencies make big strides in eliminating stressors and improving support to make a difference in providers' everyday lives," Hatt said. "Every voice added to the survey helps to identify those areas for improvement and to share what's working to move EMS forward."  
Those who respond by March 15 will be entered in a drawing to win a $50 Amazon gift card.