Medical flights in Twin Cities partially suspended due to civil unrest
The Minnesota Air Medical Safety Council announced limited suspensions due to increased air traffic and reports of shootings, drones and laser pointing incidents
---
By Laura French
Update June 3, 2020: The Minnesota Air Medical Council announced that, as of June 2, medical flights in the Twin Cities metro area will resume normal operations due to a "decrease in concerning behaviors associated with the civil unrest." 
Update May 31, 2020: Life Link III and North Air Care have announced that they are suspending air operations in the Twin Cities until further notice due to increased drone activity and associated incidents.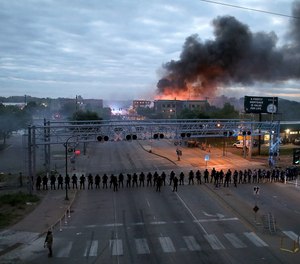 MINNEAPOLIS — The Minnesota Air Medical Safety Council has announced limited medical flight suspensions in the Twin Cities due to civil unrest.
The death of George Floyd in police custody has sparked massive protests in both Minneapolis and other cities nationwide, with fires and shootings breaking out over the last three days of demonstrations.
The Minnesota Air Medical Safety Council said that due to an increase in law enforcement and media air traffic, multiple reports of laser pointing incidents, drones and shootings in the area, direct flights into Abbott Northwestern Hospital and Minneapolis Children's Hospital are temporarily suspended for the safety of patients and flight crews.
Flight requests to one of these facilities, or others that may be deemed unsafe, will be appraised with local EMS management and Medical Resource Control Centers (MRCC) for intercept with local EMS agencies for continued transport through a safe transport route or diversion if required for direct transports.
The Minnesota Air Medical Safety Council is comprised of LifeLink III, North Air Care, Mayo Clinic Air Ambulance Operations, Sanford AirMed, Altru Care Flight, and ValleyMed Flight.   
EMS1 reached out to the Association of Air Medical Services, Life Link III and North Memorial Health Air Care for comment.
"While we hope any demonstration is conducted safely, areas of civil unrest can create hazards for our crews. This makes it difficult and possibly dangerous for air medical providers to fly and land, leaving trauma patients in those communities without the life-saving care they need. Our first priority is the safety of air medical crews and we support any decision that does that, no matter how difficult."

—Cameron Curtis, President and CEO, Association of Air Medical Services
"The safety of our crew members and patients is our top priority and is interwoven in everything we do. We were recently informed of several factors and hazards that could severely impact the safety of patient flights transporting into the Twin Cities metro area. After ongoing thoughtful and thorough review, we made the difficult decision to place temporary flight restrictions on patient transports flying into the Twin Cities. We felt this action was necessary to ensure the health and safety of our crew members and patients.  Our review of the situation in the Twin Cities remains ongoing.

We understand the impact that this has on our healthcare partners and those patients needing transport. During this time, we have continued to work diligently with our referring hospital partners to look for alternative solutions to safely transport patients to their destination.

This decision was made in partnership with the Minnesota Air Medical Council. This collaboration amongst flight programs allows us to ensure a unified approach to safety during these difficult times."

— Steve Sterner, CEO, Life Link III
"North Memorial Health Air Care is operating our helicopters in coordination with the Minnesota Air Medical Council and has been making routing decisions in coordination with local metro ground EMS to ensure the best care for the patient being transported and the safety of our flight crews."

— Shimon Cohen, program director, North Memorial Health Air Care