'Right place, right time': 2 off-duty FFs respond to medical emergency at Patriots-Dolphins game
R.I. Firefighter Anthony Colella and Mass. Firefighter Mark McCullough administered CPR for 10 minutes until the man regained consciousness
---
Will Katcher
masslive.com
FOXBOROUGH, Mass. — A pair of off-duty firefighters waiting for kickoff at Gillette Stadium sprang to action Sunday night when a fellow fan dropped to the ground in an apparent cardiac arrest. Their quick work may have saved the man's life.
For about 10 minutes, Anthony Colella, of the Johnston (R.I.) Fire Department, and Mark McCullough, of the Needham Fire Department, provided CPR until the man regained consciousness.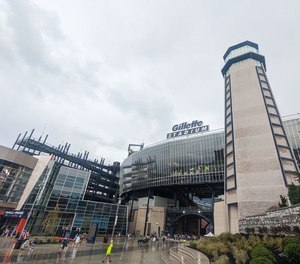 "This is what we're trained for," Colella said Monday morning. "We're trained to jump in."
The Patriots-Dolphins game was still 15 minutes from kickoff. Colella and his girlfriend were in Gillette Stadium's new G-P Atrium, standing under the stadium's new video board, when they saw police officers rushing into the area.
McCullough, at the game with some friends, including Needham's former Fire Chief Dennis Condon, was standing nearby and saw a similar commotion.
About 15 yards away, a man was on the ground, McCullough said. He and Colella rushed to the man's side. They felt for a pulse, found none, noticed the man wasn't breathing and began CPR.
After a few minutes, they could tell that the man was possibly starting to breathe on his own. He appeared to be choking and had had vomit in his airway, McCullough said. The firefighters cleared the airway and talked to the man as he regained consciousness and became aware of what happened. The man was also bleeding and appeared to have hit his head as he fell.
Both McCullough and Colella said they believed the man, at the game with two family members, suffered a cardiac arrest. He had eaten an hour before and collapsed to the ground with no explanation, the family members reported.
McCullough, a firefighter in Needham for 22 years, said he has helped out with medical incidents while off-duty before — but never one where he needed to provide CPR and revive someone. In this case, McCullough said he was simply in the right place at the right time.
"It's a rarity," he said. "Thank god Anthony and I were there."
"It's not every day you perform CPR on somebody and they're talking to you afterward," Colella said. "Right place, right time."
They stayed with the man until first responders arrived and took over. The man's condition is unknown. McCullough said he and Colella would "love to know if he's doing OK."
Colella said CPR is "the most lifesaving skill you can do" in a similar situation.
"You keep going until they're conscious and they're speaking to you or until help gets there," he said.
A second spectator medical emergency
Later in the night, another spectator had a medical emergency in an unrelated incident and later died, according to the Massachusetts State Police.
The agency said a man in his 50s, who was seated in the stadium's 300-level, had a medical episode in the game's fourth quarter. Medics brought the man to Sturdy Memorial Hospital in Attleboro, where he was pronounced dead just before midnight.
Police have not released the man's name.
----
©2023 Advance Local Media LLC.
McClatchy-Tribune News Service