'The question asked in many fire department interviews happened to my family on our darkest day'
Seeking closure nearly two decades after I believe an EMS provider sought to steal from my family as I worked to save my dad's life
---
Dad. Father. Padre. A title that takes a lot of patience, love and time to be a good one.
My dad was a huge reason for my success in the fire service. On all the vacations we took when I was a kid, we always managed to make firehouse visits a priority – and then there were the many fire-themed birthdays. He wholeheartedly supported my dream of becoming a firefighter, which became a reality in May 2001.
My dad was incredibly proud of my work as a first responder, which made what happened years later so disturbing. The night I lost my father was also the night fellow first responders violated my trust, although I didn't know it at first.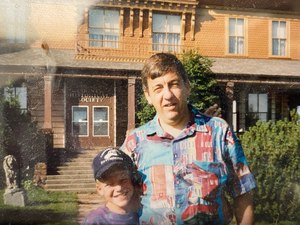 Dr. Patrick Klein: 'A heart of gold'
Born Feb. 17, 1948, Patrick Klein was adopted and raised in Anaheim, Calif. Growing up, his hobbies were bike-riding and photography.
Pat joined the U.S. Air Force in 1968 and was honorably discharged before attending and graduating the University of Pacific in Stockton. It was there he earned his doctorate in pharmaceutical medicine. 
Dr. Klein stood tall at 6ʹ6", weighed 260 pounds and had a heart of gold.
He worked as a pharmacist on the Central Coast of California. He and our family owned and operated a franchise pharmacy with no advertising other than word of mouth. My dad believed that if you treated people well, they'd stay loyal and spread the word of our business naturally. 
"The shop," as our family called it, operated successfully for 20 years. I was 2 years old when the shop opened, and I began working for cash under the table at 8. My dad taught me how to talk to people, count money, straighten inventory on the shelves, and look for the right medications on the shelf. I took pride in the work I did for my dad because he expected the best service for his customers. It was your typical mom-and-pop business where the customers weren't treated like a number. Everyone was important. This mindset early in my life helped me dramatically in the fire service. 
Heartbreaking diagnosis: 'A shock to the entire family'
My dad was given devastating news circa 1999. He was diagnosed with primary amyloidosis. This rare disorder develops abnormal protein deposits in organs and tissues, in his case, due to Agent Orange exposure during his service time in the Vietnam War. He went from standing to a wheelchair in just a few years. The once-larger-than life man with the strength of Superman was confined to a four-wheeler and barely enough grip strength to hold his own eating utensils. It was a shock to the entire family to say the least.
A few months before my dad's episode, he was experiencing a number of TIAs and other health issues that became alarming to us and his doctors. The disease was affecting his kidneys and heart, and it was more evident on a daily basis.
One evening, I sat down with my dad after helping him get dressed after his shower. I asked him flat out what I could do to get him back to the way things were. I know he needed a kidney transplant, but the risks of his body rejecting the kidney and having the amyloidosis affect the new organ was very high. He and I both knew that. So, my dad told me, "Bud. I appreciate your willingness to help me. You're just starting your career. If something happened where you got hurt on duty and I had your kidney when you really needed both, I wouldn't forgive myself."
At 20 years old, it was a very tough pill to swallow. I wanted to argue but reluctantly respected his wishes.
April 22, 2004: 'The last time I ever saw him'
It was 2 a.m. I was at my parents' house fast asleep. The comfort of my bed was jolted by my mom's stern, troubled voice: "Andrew! Dad's not moving."
I sprang out of bed and raced the 30 feet to my dad's side. He was face up, warm to the touch and had a carotid pulse.
Reading his face and chest, he was very still and not moving air. I started mouth to mouth. In between the first few breaths, I told my mom to call 911. Once the dispatcher was on the line, I told mom to tell them it was an adult male in respiratory arrest. Every time I came up from breathing into my dad's lungs, I'd yell out, "COME ON, DAD!" and keep going. My sister entered the room, and I told her to wait on the driveway for the rigs to show up.
It seemed like absolutely forever before help reached us. The first man I saw was a medic I've worked with many times before, Shawn. The rest of the crew piled in with equipment bags, the monitor and were ready to work. They all had a look on their faces of complete determination.
"It's my dad," I told Shawn. We lifted him from the king-sized bed to the floor and checked his pulse again. Nothing. We began the full work-up.
We continued working on dad together for about 20 minutes. Because the crew knew who I was and saw that I was keeping my composure, they kept me in the mix. I was never asked to rotate out, and I appreciated that. There was no way I'd bow out anyway. I was on the airway while everyone else rotated around me as Epi was pushed through the IV and chest compressions continued. The captain was explaining what was happening to my mom and sister. It seemed as if we had a really good chance to bring him back. 
Minutes later, an ambulance crew from another company arrived and stood by. Two things stood out to me within the first few minutes of their arrival. First, their suction wasn't working properly so the engineer raced outside to get theirs off the engine, and it worked like a charm. Second, the medic and EMT both stood behind us and didn't offer to assist with setting up medications or logistics. I assume it was their observation that the fire crew was doing such a proficient job they didn't want to disturb that. However, if I knew the person we responded to, I'd put myself into "all-out mode" and help with everything I could. All six people on scene knew me by first name so it was a very unique call for everyone involved. 
We got pulses back twice. We lost pulses both times.
We went back to the chest and airway to get dad's rhythm back a third time. I was still talking to my dad, hoping my voice would trigger him to come back to us.
We got him onto the backboard and walked him outside where the gurney was located. Two firefighters and the other medic rode in the back.
As soon as I closed the doors to the box, I came to the realization that dad wasn't coming back to us. I then began the eight-minute drive to the local hospital alone. My mom and sister drive separately. I feel bad for not going together, but at the time, I needed to get there – faster.
I arrived to the sight of all the doctors and nurses on duty working on my dad. The room barely had room for one more person, so I chose to look through the blinds that were half open. My breath fogged up the glass as I stared at the work of modern medicine trying to revive my dad.
As the seconds ticked away, so did my dad's soul. The staff stopped their work 15 minutes after dad was wheeled into ER Room 1. The fogging of the glass stopped as my breathing stopped. It wasn't really happening, was it? I was 20 years old and now fatherless. 
Stunned and unsure if it was a bad dream or not, I walked into the room. Dad's eyes and mouth were closed. He looked peaceful. I knew he was gone but thought he would surprise me and wake up. I looked at him for a short while, kissed his forehead, ran my fingers through his black hair, and said "Love you, dad.
That was the last time I ever saw him. 
I went into the hallway and stood alone. I felt cold, numb and lost. I simply stared at the polished concrete floor for an unknown duration. Mom and sis opened the doors from the waiting room leading to the ER hallway. Once they saw me, they knew. They went right by me and entered Room 1. The rest of that morning was a blur.
The earrings: 'This didn't make sense'
Weeks later, when the family was trying to get back on their feet, my mom brought up something that occurred during dad's incident. The paramedic on the ambulance walked up to mom after she saw dad for the last time and gave her a pair of 18k gold earrings. The medic said, "I wanted to give these back to you. They dropped onto our gurney."
This didn't make sense. The gurney was outside the house. We had used a backboard inside the house. The backboard was not close to the dresser where the earrings were located. The only way that could've been possible is for someone to swipe them by hand, and the ambulance crew was the only group that had been by the dresser. 
So what now? Should I call them out and file some paperwork? No. I was too busy trying to be the man of the house, quite literally overnight, manage "the shop" with my mom, and emotionally piece myself back together.
Months went by. Then a few years. Finally, just shy of 18 years, I reached out to the two individuals who were on the ambulance crew that night. 
Making contact: 'I got nothing'
I first messaged the medic, who's now retired. I sent a simple message asking about the night of the incident, noting I didn't want to get people into trouble. I just wanted clarity. Not surprisingly, the medic replied, "I just don't remember." I messaged the medic again, this time with no response. 
I then reached out to the EMT. I got nothing leading to the answer I needed there either.
So, even after all these years, I still don't have any closure. I've pieced together the sequence of events, the placement of people in the room, everything. It's clear to me with a sound conscience that the scenario posed in many fire department interviews actually happened to our family on our darkest day. You know the one: "You and your partner are on a medical call, and you notice a piece of jewelry on the nightstand. When the patient was moved, the jewelry isn't there anymore. Your partner was the last person near the nightstand before it went missing. How would you handle it?" 
While it angers me and breaks my heart to know that these were first responders whom I worked with and trusted, I know I have to move on.
Lessons learned: 'I can control my outlook and my actions'
Moving forward, I have some tips for myself to make this bad situation better. I can't control what others do, but I can control my outlook and my actions toward others. Here's what I came up with that helped me following my dad's passing and the possible "stealing" incident. 
Give a damn. Whether it's a cardiac arrest or working fire, we occasionally run on people we know. Most of the time we'll never see these people again, but they'll remember their interactions with us, good or bad, for life. Make it meaningful, make it right, make their bad situation better. Fortunately, all the fire personnel working with me to save my dad were giving their very best that day. The energy in the room was intense, but the engine company tried their absolute hardest to save my dad. I'm forever grateful for their efforts.
Bring up issues early. As time passes, memories and details fade. I may have remembered the details from that morning, but others may not. It's best to hot wash any issues so they're handled promptly to avoid any future issues. If people aren't willing to work out the problem, channel it up to the bosses so they can help. 
Stay positive. Aside from helping others in my daily life professionally, I turned to writing to help myself cope with the job. Putting these memories down on paper has helped me release some of the demons after negative moments. The good ones, too. Find an outlet that works for you. Don't bury the "junk" under the rug; the pile only gets bigger down the road. 
Moving forward: 'Keep fighting the good fight'
Despite how the story ended that early morning, I'll continue to honor my dad by staying true to my family, myself and the fire service. People make mistakes, and it's best to learn from those mistakes and keep them from happening again.
Keep fighting the good fight and always strive to do what's right.