With 2 used ambulances, Pa. city is en route to having its own EMS division
Meadville just hired its first EMS coordinator, and the fire department already has applications from paramedics
---
By Mike Crowley
The Meadville Tribune, Pa.
MEADVILLE, Pa. — Meadville's plan to begin operating its own ambulances could go into effect as early as April, city officials said Wednesday. Legal requirements will take six weeks or more to fulfill before emergency medical services (EMS) can begin, but Meadville Central Fire Department is ready to roll in one important respect: Two used ambulances have been added to its fleet of vehicles.
A coordinator to manage the ambulances and the paramedics that staff them has also been added: Evan Kardosh, the former city firefighter who led the push to add ambulance services to Meadville Central's responsibilities, started as the city's first EMS coordinator a week ago.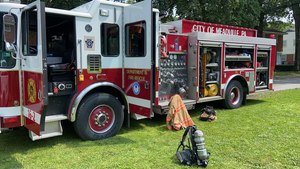 "It's getting very real," Kardosh said in a phone interview Wednesday. "It's a very exciting time — exciting and stressful — but knowing what it's going to bring and what it's going to allow, for really all of the EMS in this area as a whole to hopefully improve the care, is something that we're really excited about."
The next step in the process is Meadville City Council's consideration of an ordinance that will designate Meadville Central Fire Department as the city's primary EMS provider. The ordinance will likely be on council's agenda next month, possibly as early as March 1, City Manager Maryann Menanno said during a council study session Wednesday.
How soon council sees the ordinance depends on how long it takes the city's attorney to review a draft of the proposal, according to Menanno. Approval of the ordinance requires three votes over the course of two meetings. Assuming all three votes go in favor of the ordinance and council follows past practice, it would take effect 21 days after the third vote. If the process starts March 1, the ordinance would take effect April 5.
In the meantime, Kardosh will begin working on upgrading the fire department's state licensing to allow it to transport patients. The department has also begun receiving applications for three full-time paramedic positions that were first advertised Monday, he said.
Staffing changes have already begun, according to Menanno. With Kardosh's move from firefighter to EMS coordinator, one of the department's three part-time firefighters moved to full time to fill the vacancy. Three additional part-time firefighters have been hired over the past month as well, she said.
The EMS coordinator position comes with an annual salary of $58,150 plus benefits, Menanno said. The newly created position will fall among the city's non-represented positions, which also include city manager and city clerk, so the employee in the position will not be a member of International Association of Fire Fighters Local 515, the union chapter that represents Meadville Central firefighters. Kardosh had served as president of the local for several years until being succeeded by firefighter Tyler Cochran.
Like the EMS coordinator, the new paramedics being hired won't be in the firefighters' union either, according to Menanno. Compensation for the positions will include a starting annual salary of $48,082 plus benefits.
The two ambulances purchased this month consist of a 2008 Ford Wheeled Coach, expected to serve as the primary EMS vehicle, and a 2002 Freightliner American LaFrance, Kardosh said.
Having two ambulances will help prevent a "gap in care for city residents," he said. With several of the department's firefighting staff qualified as paramedics, he added, "we can jump o the other ambulance if need be" when the primary ambulance is on a call.
The 2008 Ford was purchased from Ronkonkoma Fire Department in Lake Ronkonkoma, New York, for $40,000. The latter was acquired closer to home and, in fact, was familiar to Kardosh — it was sold to the city of Meadville for $18,500 by Fellows Club Volunteer Fire Department in Conneautville, where Kardosh began his career as a volunteer nearly 15 years ago.
"We got very lucky finding these two units that will be able to serve our community for years to come," he said.
As work to establish Meadville Central's EMS services continues, the transition between the city's current primary EMS provider — Meadville Area Ambulance Service (MAAS) — and the fire department will need to be worked out as well. At this point, it's not clear what that process looks like, according to MAAS owner Eric Henry.
"No one has reached out to me, so I have no idea," Henry said in a phone interview Wednesday. "I have not heard any transition plan."
Likewise, it's not clear what happens for city residents who have paid for subscription memberships with MAAS. The company offers subscriptions ranging from $40 per year for an individual senior to $65 per year for a family, according to its website.
"I have no idea," Henry said regarding the impact the change will have on MAAS subscription members. "I've asked to have people reach out to me, but no one has."
Kardosh said plans to discuss the transition with various stakeholders are in the works.
"We will be working in coming weeks with other agencies and ( Crawford County) 911 about how to make sure that transition is flawless," he said, "and get all parties involved to make sure we are making the transition as effortless as we can for everyone, make sure that there are no gaps anywhere that we need, and to make sure that the appropriate ambulance is dispatched when it's needed."
___
(c)2023 The Meadville Tribune (Meadville, Pa.)
Visit The Meadville Tribune (Meadville, Pa.) at meadvilletribune.com
Distributed by Tribune Content Agency, LLC.
McClatchy-Tribune News Service