23 Maine fire departments, EMS agencies receive $3.3M in U.S. grants
"This funding will allow Maine firefighters to acquire updated equipment," Sens. Susan Collins and Angus King said jointly
---
By Leila Merrill
FireRescue1/EMS1 Staff
Washington, D.C. –A total of 23 fire departments and EMS organizations in Maine have received $3,311,791 to upgrade equipment and to support personnel, U.S. Senators Susan Collins and Angus King announced Thursday.
The funds were awarded through the Fiscal Year 2021 Assistance to Firefighters grants and the 2021 Staffing for Adequate Fire Emergency Response grants.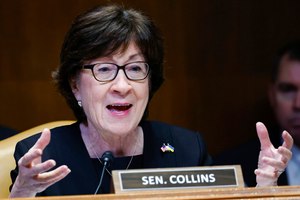 Collins' officer said in a news release that as a senior member of the Senate Appropriations Committee, she champions annual funding for these grant programs in the budget of the Federal Emergency Management Agency.
"This funding will allow Maine firefighters to acquire updated equipment so they have the best tools available to protect themselves as they serve our families and communities," Collins and King said in a joint statement.
Funds have been allocated as follows:
Bangor Fire Department received $273,021 for paramedic training
Belgrade Fire Department received $104,905 to purchase firefighter breathing apparatus
Boothbay Harbor Fire Department received $30,000 to purchase a vehicle exhaust removal system
Casco Fire Rescue Department received $14,362 to purchase fit testers for firefighter breathing apparatus facepieces
Clinton Fire Department received $62,527 to purchase a breathing air compressor and fill station
Eddington Fire Department received $26,948 to purchase firefighting hose and equipment
Falmouth Fire-EMS received $165,713 for firefighter training
Gorham Fire Department received $84,000 to purchase vehicle exhaust removal systems
Gray Fire Rescue received $18,321 to purchase a firefighter breathing air cylinder fill station. 
Maine Fire Service Institute in South Portland received $108,609 for firefighter turnout gear, portable radios, training props and equipment.
Med-Care Ambulance Service in Mexico received $82,739 to purchase portable radios and mobile repeaters.
Oakland Fire and Rescue received $47,159 to purchase firefighter turnout gear and a turnout gear dryer
Orono Fire Department received $36,010 to purchase a turnout gear washer and dryer and $733,956 to hire 3 firefighters
Portland Fire Department received $200,409 to purchase a fire station sprinkler system and support a firefighter wellness program
Sabattus Fire Department received $1,152,792 to hire four firefighters
Scarborough Fire Department received $65,045 to support firefighter training
Sanford Fire Department received $174,545 to support firefighter training
Sedgwick Volunteer Fire Department received $40,000 to purchase firefighter breathing apparatus and a gear dryer
Southwest Harbor-Tremont Ambulance Service received $32,381 to purchase power cots and a power lift system
Sweden Volunteer Fire Department received $84,706 to purchase mobile and portable radios
Van Buren Fire Department received $176,190 to purchase a brush truck
Wesley Volunteer Fire Department received $36,171 to purchase vehicle extrication tools and $203,236 to purchase a brush truck
 West Gardiner received $295,238 to purchase a pumper truck.