Conn. FD uses grant to train firefighters as in-house fitness instructors
The $30,000 AFG funds will be used to train New London firefighters and make fitness instruction better suited to firefighters' schedules
---
By John Penney
The Day
NEW LONDON, Conn. — A professional firefighter's shift, especially in a call-heavy city like New London, doesn't leave a lot of time for training, even for something as important as physical fitness.
For years, the New London Fire Department has contracted with a third-party provider to offer exercise training to its staff, part of an ongoing effort ― and a required one for new hires ― to ensure its members have the endurance and strength to haul heavy coils of hose up flights of stairs, ferry victims from fire scenes and possess the stamina to battle hours-long blazes while draped in heavy turn-out gear.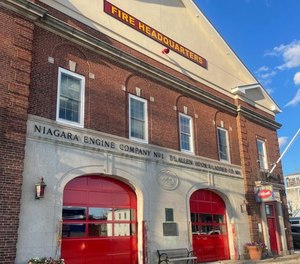 But slotting in times for such training can be challenging, a problem department officials said would be addressed with the help of a recently awarded federal grant that will help train several firefighters to be "peer fitness" instructors.
"For instance, if we had a private training scheduled for this morning, there's no one here because everyone's out on calls," Chief Thomas Curcio said on Monday, pointing to the empty bays at the department's Bank Street firehouse. "This peer training gives us flexibility."
The $30,000 Assistance to Firefighters Grant issued through the U.S. Department of Homeland Security will cover the cost of training 24 firefighters to become in-house fitness instructors, said Battalion Chief Mark Waters.
---

Read more:
Fitness testing for first responders
A mandatory, non-punitive annual fitness assessment is essential for improving the health, fitness and quality of life of first responders across the occupational life span and into retirement
---
"The goal is for our people to learn as a team and as individuals, to be knowledgeable about fitness and be able to develop their own regimes," he said from inside a headquarters work-out room filled with free weights, elliptical machines and other gym equipment ― much of it purchases with previous AFG grants. "We want our guys working out every shift."
During a visit to the fire station on Monday, U.S. Rep. Joe Courtney, D-2nd District, noted the AFG program was initiated in the wake of the 9/11 attacks to ensure firefighters and other first responders had the specialized equipment and training they need to do their jobs.
Courtney praised the department and city Grants Coordinator Adriana Reyes for their "hustle" in successfully applying for the competitive grant.
(c)2023 The Day (New London, Conn.)
Visit The Day (New London, Conn.) at www.theday.com
Distributed by Tribune Content Agency, LLC.
McClatchy-Tribune News Service