LAFD partners with hospitals to expand advanced response program
The Advanced Provider Response Unit program provides direct care to patients who may not need immediate transportation to the emergency room
---
By FireRescue1 Staff
LOS ANGELES — A fire department partnered with local hospitals to expand their advanced response program.
LAFD.org reported that the Los Angeles Fire Department added three new apparatus to its successful Advanced Provider Response Unit program with the help of several hospitals.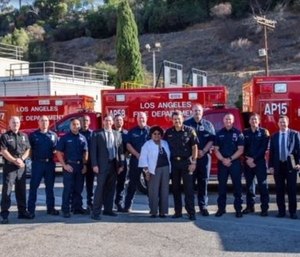 The APRU program began two and a half years ago and provides direct, on-scene care to patients who may not need an immediate transport to an emergency room.
Each unit is staffed with a firefighter-paramedic and an advanced provider, such as a nurse practitioner or physician assistant.
"The APRU program represents our continuing effort to better serve the community, meet the challenges of our increasing EMS call load and enhance the delivery of emergency medical services in the City of Los Angeles," LAFD Chief Ralph Terrazas said.