NFPA 1802: Improving standards for firefighter radios
If your department is struggling to replace its radios, a fire grant can help
---
By Adam Hursh
The National Fire Protection Association (NFPA) maintains a standard on two-way, portable RF voice communications devices for use by emergency services personnel in the hazard zone. The standard, NFPA 1802, which was released in 2021, sets forth minimum requirements for the design, performance, testing and operating environment parameters of firefighter radios.
NFPA 1802 is a broad standard that addresses three main areas: ergonomics, features and operating environment. The first area covers aspects like knobs, buttons and physical handling. The second looks at interoperability, data storage and hazard-zone operation. And the third sets forth testing requirements to ensure performance against the environmental extremes devices may face.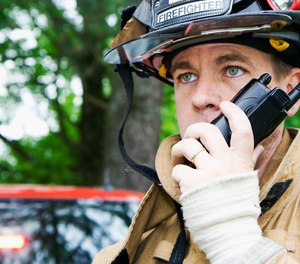 To comply with NFPA 1802, radios and their accessories must be shown to withstand various environmental factors such as temperature, humidity, and impact. Specifically, radios must be able to withstand a drop from a height of 9.8 feet onto concrete and operate after exposure to high temperatures, as well as water immersion for 15 minutes.
The standard is expected to improve firefighter safety by ensuring radios are durable and reliable in the harsh environments they operate in. However, with the improvement in design comes a higher cost of upgrading to radios that meet the new standard. This can be a challenge for many fire departments.
The Importance of Reliable Radios in Firefighting
Reliable communication is essential in firefighting operations. Firefighters need to be able to communicate with each other and with the incident commander to coordinate their efforts and ensure their safety. Firefighters face radio communication challenges due to interference, dead zones and equipment failure on a daily basis. While this standard may not offer a comprehensive remedy for all these challenges, it does help ensure the radio will not be the point of failure in a catastrophic event. Communication failures are often a contributing factor in firefighter line-of-duty death investigations. The department must ensure its firefighters have an adequate and functional radio system; additionally, firefighters must be well-versed in the operations of the radio, including its strengths and weaknesses.
The Impact of NFPA 1802 on Firefighter Safety
The NFPA 1802 standard is expected to significantly impact firefighter safety. By ensuring radios are durable and reliable in harsh operating environments, the standard will help reduce the risk of communication failure during firefighting operations. This, in turn, will help to improve the safety of firefighters and increase the effectiveness of firefighting operations.
An important chapter within the standard focuses on the design of each radio. To comply with NFPA 1802, each manufacturer must adhere to a certain set of design specifications that make every radio have the same baseline set of features, including, but not limited to, a top-mounted power/volume knob, an emergency alert button, and a visual display. The operation of each knob must be as described in the standard and have a vocal announcement during the power on/off sequence and when changing channels. While most radio manufacturers already had these options readily available, they were just that: options.
How to Fund Radios
As noted above, the cost of upgrading to radios that meet the NFPA 1802 standard can be a challenge for many fire departments. However, the benefits of reliable, durable radios cannot be overstated.
Funding for the purchase of new radios that meet the NFPA 1802 standard can be obtained by fire departments through various means, including:
Applying for grants: Grants from federal, state or local agencies typically view radio purchases as a high-priority program. The Assistance to Firefighters Grants (AFG) program, for example, recognizes the high cost of these radios and works to ensure that departments that have a need for a new, compliant radio system have a fair shot at receiving funding.
Partnering with local businesses or community organizations: Fire departments can work with local businesses or community organizations to raise funds. This can be done through fundraising events, sponsorships or direct donations. While this option may not be financially lucrative, it does help chip away at the cost of new radios.
Leasing or financing options: Another option fire departments can explore is leasing or financing the radios to spread out the purchase cost over time. This can help make the cost more manageable and allow fire departments to purchase radios that meet the NFPA 1802 standard without having to pay the full cost upfront.
Conclusion
The introduction of the NFPA 1802 standard marks a significant milestone in enhancing firefighter radios design, performance and reliability. By setting minimum requirements for these vital communication tools, the standard is expected to improve firefighter safety. As departments convert to the new radios, firefighters should gain confidence in radio performance and reliability.  .
By adopting and adhering to the NFPA 1802 standard, the fire service is taking a proactive step toward improving the effectiveness and safety of firefighting operations. Reliable communication is paramount in these lifesaving endeavors, and this standard mitigates some of the risks associated with communication failures, ultimately safeguarding firefighter lives.
It is crucial to remain attentive to emerging technologies and advancements in firefighter communications. By staying at the forefront of innovation and continuously improving our communication systems, we can ensure our firefighters are equipped with the best tools to tackle challenges and protect lives. Together, we are shaping a safer future for our firefighting community.
About the author
Adam Hursh is a seasoned fire service professional with 23 years of experience. He is currently the deputy fire chief at the Gilt Edge Volunteer Fire Department and a full-time lieutenant with the Piperton Fire Department, both in Southwest Tennessee. Adam holds a Master of Public Administration from Columbia Southern University and is recognized as a Chief Fire Officer by the Center for Public Safety Excellence (CPSE). He is also renowned for securing numerous local and federal grants for his departments and consulting with other fire and EMS agencies on grant submissions.