FDNY commissioner testifies on e-bike fire safety
Commissioner Laura Kavanagh spoke to the Consumer Product Safety Commission urging new safety standards
---
By Tim Balk
New York Daily News
WASHINGTON — FDNY Commissioner Laura Kavanagh visited Washington, D.C. on Thursday to urge federal regulators to adopt new safety standards for lithium-ion batteries that power e-bikes and have been found to cause explosive infernos.
In testimony to the Consumer Product Safety Commission, Kavanagh suggested rules that would require the batteries to automatically shut off when they are fully charged or overheat, and enforcement efforts to seize batteries that do not meet federal standards.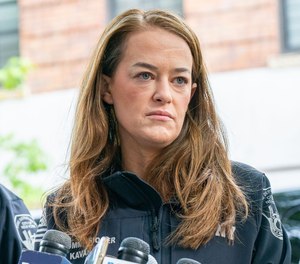 Lithium-ion batteries power e-bikes, e-scooters and other so-called micromobility devices that have grown rapidly in popularity since the start of the COVID pandemic.
They have also ignited deadly fires with growing frequency. One blaze killed four people in Manhattan's Chinatown last month.
"There are unsafe devices in the hands of our citizens right now," Kavanagh testified. "We've seen that this technology moves very quickly, so regulations need to be forward-looking in order to keep pace."
New York City has moved to regulate the batteries, but there is a void in federal safety standards.
Kavanagh's trip — her first to the nation's capital in her official capacity as commissioner — came as city officials work to combat a multiyear surge in battery blazes in the five boroughs.
As of Monday, lithium-ion batteries resulted in 137 fires, 87 injuries and 13 deaths in the city so far this year, according to the Fire Department. The city is well on pace to surpassing the 216 battery fires it logged in 2022, and to roughly double the 104 it reported in 2021.
"It is paramount that the devices themselves become safer," Kavanagh said. "That process will depend on many of the people who are here today, including members of the commission, elected officials, researchers, scientists and engineers."
DC Fire and EMS was honored to host @FDNYFC Fire Commissioner Laura Kavanagh & staff at Engine 16. The meeting with our Executive Staff touched on areas of common interest and concern. The Commissioner was in DC testifying on dangers involving lithium-ion batteries. #DCsBravest pic.twitter.com/yvVQirmIoT

— DC Fire and EMS (@dcfireems) July 26, 2023
In Washington, Rep. Ritchie Torres, a Bronx Democrat, and Sen. Kirsten Gillibrand, an Albany Democrat, introduced bipartisan legislation this year to stiffen product safety standards for lithium-ion batteries used in e-bikes and e-scooters.
Torres said the Consumer Product Safety Commission should federally regulate lithium-ion batteries with or without the passage of the bill, which he said he hoped would pass within the next year and a half.
"The scandal is not that the federal government is failing to regulate the manufacturing of lithium-ion batteries," Torres said by phone Thursday. "The scandal is that the federal government is not even trying."
(With Thomas Tracy)
©2023 New York Daily News.
Visit at nydailynews.com.
Distributed by Tribune Content Agency, LLC.
McClatchy-Tribune News Service