FDNY: Li-ion battery fires have claimed 13 lives this year
Within 6 months the number of people killed in lithium-ion battery fires has more than doubled over last year
---
By Thomas Tracy
New York Daily News
NEW YORK — Within just six months, lithium-ion battery fires have claimed the lives of 13 New Yorkers — the most recent disaster killing four people in a massive blaze sparked in an E-bike repair shop in Chinatown early Tuesday — according to Fire Commissioner Laura Kavanagh. Here's a breakdown:
• Jan. 20: An e-bike battery caught fire inside a three-story home on 89th St. in East Elmhurst, killing 63-year-old Modesto Collado, FDNY officials and neighbors said. Ten others, including four firefighters, were also injured.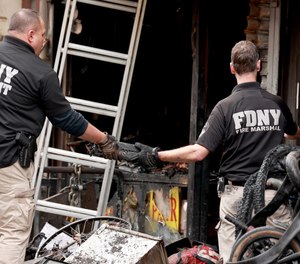 The burning e-bike was next to a first-floor staircase when it caught fire, FDNY officials said. The resulting inferno was so intense that it burned through the first-floor and second-floor staircases, causing them to collapse as firefighters entered the building.
• Feb. 14: A 67-year-old woman died from a massive lithium-ion battery fire inside a home on Goodwin Place near Greene Ave. in Bedford Stuyvesant. The unidentified woman, a tenant in the building, died several days later in the hospital. The fire was sparked in another apartment where a tenant was using his home as an off-the-books E-bike repair shop, FDNY officials said. More than 50 batteries were found in the apartment, and the tenant managed to escape unscathed.
• April 10: A 7-year-old boy and a 19-year-old girl were killed when an e-bike caught fire inside their home on 46th St. and 28th Ave. in Astoria Queens. The e-bike that caught fire was by the front door, blocking the exit. Three family members, including two children and the family patriarch, managed to jump from an upper window in time and survived the blaze, but the teen and young boy couldn't get out in time.
• May 8: Washington Heights matriarch Bertha Domenech Santiago, 94, and her son Luis were killed when several lithium-ion batteries caught fire inside their apartment on W. 190th St. just before 1 p.m. A few days later, Santiago's home health aide and an unidentified male tenant, who was critically injured in the fire, died at the hospital.
• June 20: Shortly after 12 a.m. a lithium-ion battery sparked a massive blaze inside the HQ E-Bike Repair on Madison St. near Catherine St. in Chinatown. The fire quickly spread to the upper floors and killed four people, including a 71-year-old man and a 65-year-old woman. Two women were also in critical condition at a local hospital, fighting for their lives.
HQ E-Bike repair had been hit with $1,600 worth of violations just nine months before the fire for having lithium-ion batteries being charged while stacked next to each other and plugged into extension cords — violations that could undoubtedly spark and spread a blaze — FDNY officials said.
Information about one of the fatal ion-lithium battery fires, which took place before the Washington Heights blaze, was not immediately disclosed.
With six months to go in the year, deaths from ion-lithium fires are already more than double the toll last year, when six were killed, according to FDNY officials.
©2023 New York Daily News.
Visit nydailynews.com.
Distributed by Tribune Content Agency, LLC.
[RELATED: Lithium-ion battery fires: A 'relevant, recent and important' challenge for firefighters]
McClatchy-Tribune News Service