Fire safety, smoke alarms lacking inside downtown Los Angeles jail
Fires are not uncommon as smoke detectors, sprinklers are lacking inside the Men's Central Jail
---
By Keri Blakinger
Los Angeles Times
LOS ANGELES — Mary Veral caught one whiff of the smoky air and wrinkled her nose. It wasn't the first time she had smelled burning in Men's Central Jail. As a member of a county jail oversight commission, Veral visits regularly. And sometimes, she said, the place smells "like a campfire."
But it wasn't until this summer that she laid eyes on one of the blazes, when she walked into a second-floor cell block and spotted foot-high flames in three cells.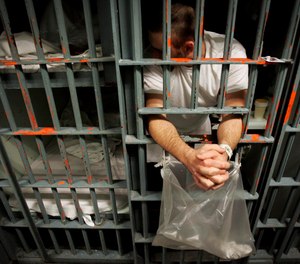 "I was shocked," she said. "It was bigger than I thought it would be."
When she told the staff, Veral said, they shrugged and said there wasn't much they could do: It was a Monday, which is when inmates usually cook their commissary, food items purchased from the jail to augment regular rations.
But the problem is not constrained to Monday nights, according to interviews with more than half a dozen former inmates and jail staff members. Fires — not always small ones — burn regularly at the jail, they said, posing a serious safety risk that some worry could ultimately trigger a bigger blaze.
Men who've spent time in the 60-year-old downtown Los Angeles lockup say inmates are given cold food every day of the week — so sometimes they start blazes to heat it or cook their own. Other times, they use clandestine fires to warm their coffee, light contraband cigarettes or drugs, create jailhouse air freshener or just stay warm. In Men's Central Jail, they say, there is almost always something burning.
The recurring hazard is possible in part because of the lack of smoke detectors or sprinklers in the inmate housing areas. Without automatic alarms, officials said, it's up to jailers to spot fires and manually activate an alarm inside one of the deputy booths.
Experts such as Carlee Purdum, who studies fire safety in jails and prisons as assistant director of the Hazard Reduction and Recovery Center at Texas A&M University, worry that's not enough.
"The largest carceral disasters we've seen in the U.S. and across the world have occurred when prisons, jails or detention facilities are not treated seriously by those in charge of managing fire risk," she said. "Incarcerated people are uniquely vulnerable to fires in that they cannot take protective action on their own."
The Los Angeles County Sheriff's Department said it was aware of fires occurring in Men's Central Jail. But officials said that they are typically small and that the county's seven jails are in compliance with fire safety codes.
"All of our jails adhere to both fire marshal and Board of State and Community Corrections regulations and guidelines related to fire safety," Assistant Sheriff Sergio Aloma said. "We do however continue to assess best practices related to facility safety and remain open to new emerging technologies that can make our facilities safer."
[WATCH: Corrections and fire collaboration]
One of the most common ways inmates start fires in Men's Central Jail involves using an electrical outlet, a battery and two razor blades to create a spark. The spark lights the "wick," a long strand woven out of toilet paper. If the toilet paper is twisted tightly enough and the wick is long enough, it can smolder for hours.
"You'd usually have one wick burning at all times on the tier," said one former inmate who, like several others, asked not to be named because he had ongoing involvement in the legal system and feared retaliation.
Sometimes, according to the former inmates and staff, people use the wicks to light cigarettes or joints that have been smuggled in. Other times they use them to start bigger blazes to cook food. Several men said they'd seen other inmates scrape the paint off of the metal bunks and use them as giant griddles.
"Most of the bunks, if they've been cooking on them, they all kind of have the paint scraped off," the former inmate said.
Veral said the men she spoke to during her inspection in June also cited other reasons for starting blazes. Some said they weren't trying to cook commissary purchases, just warming cold food they'd been served. Others told her they started fires because they didn't have hot water. And some just couldn't get warm any other way: "It's f—ing cold in here," she said they told her.
The aging facility has been beset with structural and plumbing problems for years, and last winter two men died after showing signs of hypothermia. In recent months, inmates have reported inconsistent access to hot water, and oversight inspectors have repeatedly questioned whether the jail is meeting the state-mandated requirement to provide at least one hot meal a day.
"Men are constantly complaining about not getting served hot food, since the food is prepared in another building," said Alex Sherman, vice chair of the Sybil Brand Commission, which oversees the local jails. "It's cause and effect: People are trying to get a hot meal, so they do what they can to heat up some food."
Usually, it's a "controlled burn," one longtime Sheriff's Department employee said, asking to remain anonymous because he was not authorized to speak to the media. "But sometimes the sheet or cloth will get out of control."
Many prisons and jails have smoke detectors or automatic sprinklers in inmate housing areas. But in many places, including Los Angeles, they're not always required.
Though the recent visibility of blazes has brought the issue to the fore, fires have been a problem in Los Angeles County lockups for at least a century.
In 1921, the former county jail descended into an 18-hour riot after one man started a fire to heat his coffee. The Times reported that jailers then put him "in the dungeon," which incensed the other prisoners, who began tearing apart their cots and throwing the legs at passing jailers, shouting, "Take him out of the hole!"
By that point, the jail had already become so decrepit and overcrowded that, in an editorial, The Times took the side of the rioting inmates. The incident helped prompt the construction of another jail — in the top floors of the county Hall of Justice. Within a few decades, that facility had also become overcrowded, and in 1957 city officials ordered it condemned because the surplus of people and shortage of emergency exits made it a firetrap.
To solve those problems, Men's Central Jail opened in 1963. When it was built, the structure conformed with building codes that did not require automatic sprinklers or smoke detectors in any of the housing areas. Instead, the building relied on a manually triggered alarm system, trusting the jail staff to spot fires and alert people.
Two decades later, when Michael Saavedra first went through the jail as a teen, he said, fires — which the men referred to as "bombs" — had become common.
"The first time I saw it, I was about 17 and in a six-man cell," said Saavedra, who is now the co-director of legal support at the advocacy organization Dignity and Power Now. "A Black gentleman had started a fire bomb, and he had a milk carton and a little string tied around it from the bedsheet like a handle. And that's how he would heat up coffee and soup."
Sometimes, he said, if a blaze grew big enough, the guards would notice and tell the men to put it out, often without even opening the cell gates. Saavedra estimates he passed through Men's Central Jail more than a dozen times before setting his life on a different path. But he never heard a fire alarm despite fires being a near-constant presence.
An expert report commissioned by the ACLU of Southern California in 2000 found "serious and life threatening conditions," including the lack of sprinklers, an antiquated fire alarm system and the complete absence of smoke detectors in any of the housing areas.
"The entire MCJ facility should be protected throughout by automatic sprinklers, including all housing areas, corridors, clinic areas and all other building areas not separated from the main building by two-hour fire resistive construction," the report said, adding that officials should "provide a new fire alarm and detection system throughout the facility."
Two years later, a reinspection said that "none of the very serious fire safety problems" had been addressed, and that they presented a "clear and present danger."
Since then, little has changed.
Though officials said the system was upgraded between 2005 and 2007, the basics are still the same, and there are still no smoke detectors or sprinklers in most places where inmates live. Instead, the facility relies on staff to spot fires and pull alarms in deputy booths and nurses' stations.
Yet videos, records and past Times reporting show that Men's Central Jail has a history of supervision so lax that inmates have been beaten for prolonged periods of time or killed without staff noticing for minutes or hours.
The state fire marshal's office — which maintains copies of some fire safety inspections — turned over a single, one-page document in response to The Times' request for five years of records. The report offered few details beyond a sentence noting that the facility was compliant with code as of mid-2020.
The Board of State and Community Corrections provided one document as well. Boxes beside the words "smoke detector" are checked to indicate the devices are functional, but a state board official did not know where such equipment might be because the Los Angeles Fire Department does the inspections.
The Fire Department declined to comment.
Elsewhere, lax fire safety behind bars has proved deadly, even in recent years. In Texas, state auditors have been warning prison officials since at least 2013 about major fire safety flaws — including nonfunctional alarms, broken smoke detectors and missing extinguishers. But the prison system failed to fully fix those problems, and over a nine-month period starting in the fall of 2021, four Texas prisoners died after fires in or directly in front of their cells.
This year, a 48-year-old prisoner in Indiana died in a fire in his cell, according to the South Bend Tribune. That death came as the state was already grappling with a federal lawsuit on behalf of the family of a 30-year-old man who burned to death in 2017. Documents filed in that case showed that the prison had an aging electrical system and a dearth of sprinklers and fire extinguishers.
In Ciudad Juárez, Mexico, across the border from El Paso, more than three dozen people in an immigrant detention center died in March after a fire tore through the facility. And this month, a prisoner in South Carolina died after a small fire in his cell at Lieber Correctional Institution.
Some advocates and oversight officials fear something similar could happen in Los Angeles.
For Melissa Camacho, a senior staff attorney with the American Civil Liberties Union of Southern California, those fears are amplified by the jail's age and poor condition.
"In Men's Central Jail, the cell gates are known to break," she said. "So the thought of a fire breaking out and needing to rely on broken gates to get people out safely is terrifying."
At the July meeting of the Sybil Brand Commission, Veral shared her concerns, telling fellow commissioners she'd seen fires "just floating out in the air" at Men's Central Jail.
Commissioner Bob Frutos, a former Los Angeles police officer, ran through a list of persistent problems the commission had noticed during jail visits, including blood and feces smeared on the walls and in large piles inside the building.
"I still don't understand why we would allow inmates to start a fire," he said. "This is a known problem."
Veral agreed, bemoaning a lack of accountability for the terrible conditions in local lockups.
"It's like a Third World country," she said. "I've been in that jail many times, and that one, it was wild."
©2023 Los Angeles Times.
Visit latimes.com.
Distributed by Tribune Content Agency, LLC.
McClatchy-Tribune News Service