Identifying a new fire chief's top priority
Resources for ingratiating yourself as a new chief with the most important parts of the job
---
Regardless of whether you've been a fire chief for years, or only recently assumed the rank, being the top dog at a new department will always be an adventure.
What should you tackle first? The department's budget or a comprehensive safety analysis? Should you dive into department culture, or should you work on getting to know crewmembers on an individual level?
In a recent poll, we asked the FireRescue1 community, "What should a new fire chief's top priority be when assuming the top position at a new department?"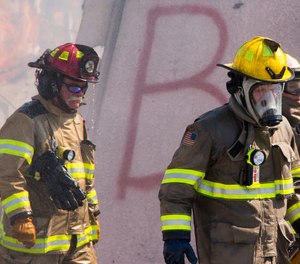 A majority of respondents indicated that a new chief should make an effort to get to know fire personnel (59%) and understand the department's culture (32%) before turning to community outreach (5%) or other administrative matters, such as conducting a safety analysis (2%) or budget considerations (2%).
"Putting that fifth bugle on your collar is a solemn responsibility," FireRescue1 Executive Editor Chief Marc Bashoor said. "It makes perfect sense that 59% of the respondents said the most important thing a new chief should do is get to know the people."
According to Bashoor, focusing on personnel first sets the stage for how new department chiefs are received.
"Getting to know the members and reviewing organizational culture are absolutely the top two issues for any new chief to take on," he said. "I wholeheartedly agree that getting to know the people is the most important of the two and will be the basis for a nurturing and trusting environment."
Check out these FireRescue1 resources for these top two priorities – how to connect with the crew and immerse yourself in the department's culture.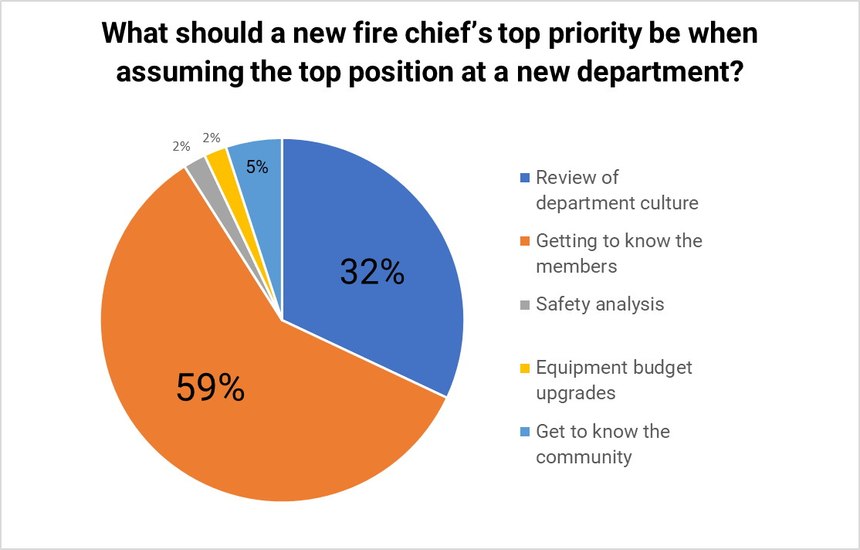 Building relationships with the crews
From meaningful to mundane: The importance of firefighter conversations: Jim Spell details several tips for effective communication with firefighters at the station.
There's a trick, according to Spell: "Spend any amount of time in a firehouse and you will hear the individual heartbeats of the department, that is, if you listen."
Have you forgotten? A call to chiefs to remember who they serve: Senior Captain Chris DelBello reminds fire chiefs to show their firefighters they haven't been forgotten, nor have their sacrifices or their love of the job.
"In your position now, courage is shown in how hard you fight for your firefighters and provide them with the necessary programs to improve the department and morale," he writes.
Immersing yourself in the department's culture
Chiefs, what is your fire department culture?: Robert Rielage cautions fire chiefs that if they haven't explored the culture of their fire department, then they are likely not the one driving its values.
"Remember that when introducing or reintroducing an organization's values to its members, they will first look to you to see how you act within those guidelines," he says.
Preserving firefighter culture, fire service camaraderie: Chief Bashoor details the importance of embracing the past while looking to the future: "Firefighting is a way of life – not just a job or profession."
7 steps to an inclusive firefighter culture: Robert Avsec writes how promoting recruitment and retention for diversity throughout the firefighter career lifecycle helps departments achieve success today and tomorrow.
"Making your fire department more inclusive cannot be achieved through written policies or training alone," he says. "It will require active leadership up and down your department's chain-of-command."
[For more resources on key leadership and personnel issues for chief officers who lead and manage fire departments, subscribe to our Fire Chief Newsletter and Fire Chief Leadership Briefing.]

Request product info from top Fire Administration and Billing companies
Thank You!