ReIGNITE Quick Take: Making the volunteer to paid conversion
Seven areas of preparation for transitioning to a paid, cross-trained fire and EMS system
---
With the fire service volunteerism declining in many areas of the country, more and more volunteer fire departments are facing drastic measures to maintain service to their communities.
During his IAFC ReIGNITE session "The business checklist for volunteer to paid conversion," Assistant Chief Randall W. Hanifen of West Chester (Ohio) Fire-Rescue explained that a primary solution is conversion to a system that's inclusive of a cross-trained (fire and EMS) paid crew, likely on a more regional basis to help cover costs. Hanifen has been a principal consultant and associate consultant on many conversion studies, and knows the many factors involves in making the volunteer to paid transition.
Memorable quotes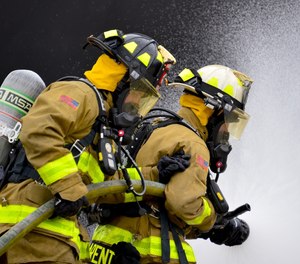 "The overall trend is that volunteerism is continuing to decline as you have dual-income families, children in sports, and just lack of an understanding and desire to do blue collar work."
"We're trying to get the biggest bang for the buck as we make that conversion, again trying to alleviate the huge cost impact and really show what service we're making for that cost."
"You really need to work with your finance department and the auditor to determine how all the funding mechanisms work and have them work with you and run the numbers so you have a good basis for budgetary planning."
"The last thing we want to do is put all this in place, put people on duty, buy vehicles and then not be able to afford it."
"This is going to take a lot of salesmanship on behalf of the leaders of the fire and EMS organizations."
Top takeaways
There are seven key areas of preparation for the volunteer to paid department conversion:
1. Collaboration with neighboring jurisdictions: Each small town can afford fire and EMS when not paying for personnel, but this is likely not the case in a paid system. As such, you'll want to collaborate with neighbors.
"Once that paid force is put on duty, that's a constant cost that's going to be there every week, every hour of the day that they are on duty," Hanifen said. "Oftentimes, that cost is so significant that it can't be borne by just the small area that is being covered by the current fire/EMS department. We need to have enough taxpayers to actually absorb that increased cost." And this is where a cross-trained system that serves across a region comes into play.
2. Understanding current costs: "Once you've got 80% of your budget being locked up with personnel, that really only leaves you the 20%, so you're really going to have to plan out those large purchases," Hanifen explained. As such, it's critical to first understand your existing costs:
What is your apparatus replacement schedule?
What is your facilities replacement schedule?
What are your current operating costs? What are you spending money on and why?
3. Predicting costs over the next 10 years: The costs won't hit all at once, so we need to be able to predict what the costs are and get them under control before making the transition. This includes a strong understanding of the following:
Capital outlays – facilities, apparatus, equipment
Payments – bonds, leases
Volunteer incentives – can you get any volunteers to stay on?
4. Understanding funding mechanisms, cycles and comparisons: Hanifen underscored the need to understand where the money comes from in order to plan for your system. This could include:
City budget
Levies
EMS billing
Taxes
"You really need to work with your finance department and the auditor to determine how all the funding mechanisms work, and have them work with you and run the numbers so you have a good basis for budgetary planning," Hanifen added.
5. Understanding current politics and organizational dynamics: Changing from a volunteer to paid structure is a complex, and sometimes controversial, process. Fire department leaders will want to get the input from elected officials, then consider several factors:
Current organizational structure of the organization
Current demographics of the area, possible retirements or influx of personnel
Ability to convert current personnel (both desire and qualifications)
"If you are able to take the personnel who are there today, volunteering, and convert those to paid personnel, it really helps make that conversion a lot easier because they see it as their own people that are taking those positions, not outsiders coming in to staff the paid," Hanifen noted.
6. Integration actions: Be prepared to answer several questions:
How many paid personnel will there be?
What is the shift structure?
What is the rank structure?
Are you prepared to manage an EMS system, as it has many laws and regulations?
7. Developing a conversion plan: Finally, the plan: This is the true "nuts and bolts" of the transition. You need to plan out costs per year of a paid system:
Personnel costs – salaries, benefits, uniforms, PPE, misc.
Operations costs – utilities, fuel, station supplies
Capital improvements – apparatus, facilities, equipment
At the end of the day, Hanifen said, it all comes down to this question: "What's it going to cost to pull this off?"
Final thoughts
Hanifen reminded that, "While you may be lucky to have a thriving volunteer force now, eventually the national trend of declining volunteerism will catch up with your department," so it's imperative to begin the planning process and building data now so you're prepared.
Making a volunteer to paid conversion is a complex process so you'll want to reach out to fellow fire service leaders who have done it before.
"Sit down with your leaders and figure out what that 10-year growth looks like … and how is that going to affect your service demand," Hanifen said. "You may end up having to convert much faster than you think depending on how that community grows."
Follow FireRescue1's ReIGNITE virtual conference coverage at firerescue1.com/fri.

Request product info from top Fire Administration and Billing companies
Thank You!