Volunteer fire departments need recruits – here's how to reach them
The Make Me a Firefighter campaign helps departments connect volunteers with opportunities
---
Content provided by National Volunteer Fire Council
Ask any volunteer fire chief what their biggest challenges are, and more than likely maintaining adequate staffing is at the top of the list. It may be no surprise, then, that the data shows a staggering decline in the number of volunteers in recent years. The National Fire Protection Association reports a 16.23% drop in volunteer firefighters nationwide between 2015 and 2017.
The reasons for the decline are varied. A few commonly acknowledged reasons include lack of time, increased training requirements, and shifting demographics as younger people leave rural communities. Some less discussed but equally important obstacles are new recruits feeling their expectations are not met once they join the fire department, or that the culture of the department creates barriers that cause new recruits to leave.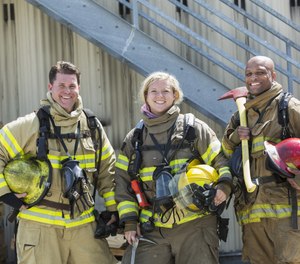 Lack of awareness is another factor many departments struggle with. A national survey conducted by the National Volunteer Fire Council (NVFC) in 2014 found that 79% of those polled did not know if their local fire department was seeking volunteers and 41% were unsure if their department utilized volunteers.
To address the challenges and help volunteer departments overcome recruitment and retention obstacles, the NVFC launched the Make Me A Firefighter campaign. The campaign has two main focuses: raise awareness of the need for fire service volunteers among the public and provide departments with tools and resources to successfully recruit and retain volunteers.
Connecting with the Community
The good news is that the 2014 NVFC research shows there are many areas of opportunities for reaching potential volunteers. According to the survey, 44% of millennials are at least somewhat interested in volunteering with their local fire department. There are also high rates of interest among women and minorities.
"A volunteer fire department should reach out to citizens of all demographics in the community," said NVFC Chair Steve Hirsch. "We need to do a better job in the fire service of letting our community know we need more volunteers and of reaching out to all audiences to let them know they can be part of the solution."
A personalized invitation is often the key factor in convincing a potential volunteer to take action. Finding ways to reach target audiences and providing them with a specific invitation to join the department is an important step in the recruitment process.
In addition, departments need to be prepared for new recruits. No one wants to join an organization where they feel like an outsider or are disrespected or ignored. Treat everyone as an integral part of the department, and respect new ideas and viewpoints that each member has to offer. Each individual brings his or her own strengths to the department, and these need to be recognized and nurtured. A culture of exclusion or negativity will deter valuable new recruits from joining as well as lower the public's perception of the department as a whole.
Recruitment Tools and Resources
The Make Me A Firefighter campaign consists of a public web site at www.MakeMeAFirefighter.org where prospective recruits can search for a local volunteer opportunity and connect with their department, and a department portal at https://portal.nvfc.org where department recruiters can access tools and resources to find new volunteers.
"The Make Me A Firefighter campaign takes a large part of the recruitment work off resource-constrained volunteer departments by providing ready-to-use materials and tools to help them run a successful campaign," said Hirsch. "Recruiters don't have to 'reinvent the wheel' by spending time and money creating new materials. They can easily customize and use the free resources available through the department portal."
A critical part of the campaign is the opportunity listings database. Departments are encouraged to add their available volunteer opportunities to the database. Potential volunteers going to the campaign's public web site can then find the opportunity and submit a form to connect with the department. Since the campaign launched, over 11,000 volunteer applications have been submitted through the MakeMeAFirefighter.org web site.
To best utilize the department portal, follow these five simple steps.
Sign Up: Register for free at https://portal.nvfc.org. Once logged in you will have access to all of the tools, materials, and resources in the department portal.
Post Your Volunteer Opportunities: Make sure prospective volunteers can find you. Add your volunteer opportunity listings to the national database so that your department will show up on www.MakeMeAFirefighter.org.
Raise Awareness: Let your community know that your department needs more volunteers and that they can join. The easy-to-use materials generator allows you to quickly create professional-looking recruitment materials and event invitations to distribute in your community.
Track Your Recruits: Make sure interested individuals don't fall through the cracks due to a lack of communication. The recruit tracking tool allows you to monitor prospective volunteers through every stage of the application process.
Utilize Additional Training and Resources: The department portal includes resources such as an event planning guide, tips for reaching target audiences, video PSAs, online training on recruitment and retention topics, and more.
Learn more and start using the Make Me A Firefighter campaign at https://portal.nvfc.org.

Request product info from top Fire Administration and Billing companies
Thank You!