Cardiac Science backs CPR world record attempt
Cardiac Science donates layperson-friendly AED for event; company also offers device designed for responders
---
By Jamie Thompson
FireRescue1 Senior Editor
When it comes to patient survival after sudden cardiac arrest, the public plays as much a key role as EMS does.
But drawing attention to this fact has always been a challenge. Next month, an event that will attempt to break a world record will teach lifesaving skills to thousands of people and raise awareness of the importance of community CPR and AED training.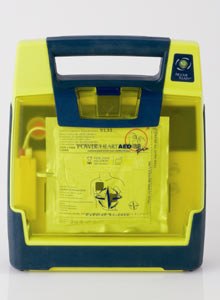 All 43,000 Scouts and leaders attending the 2010 National Boy Scouts of America Jamboree on July 29 are being invited to participate in the attempt to break the world cardiopulmonary resuscitation and Automated External Defibrillator training record.
As one of the main event sponsors, Cardiac Science will provide 32 Powerheart AEDs to be made available at the Jamboree to help protect the lives of guests and participants.
The layperson-friendly G3 Plus models help to allow untrained adults to deliver CPR of a quality similar to that of trained professionals, according to the results of a University of Pennsylvania simulated rescue study in 2007.
"There will be several thousand people walking out of the Scout Jamboree with life-saving skills and they will be better prepared to respond to cardiac emergencies," Cardiac Science Marketing Manager Eddie Martin said.
Following the event, 10 G3 Plus AEDs will be donated to the Boy Scouts of America and awarded to Councils and Troops in communities around the country.
AED for professional use
From a first responder perspective, Cardiac Science manufactures a specific AED for professional use — the Powerheart G3 Pro.
"We designed the Pro to meet the specific needs of those first responders from fire departments and EMS agencies," Martin said.
The G3 Pro comes with a color display, 3-lead ECG monitoring capability, and manual defibrillation override.
Patented "Rescue Ready" technology self-tests all main components — battery, hardware, software and pads — daily, and it completes a partial charge of the high-voltage electronics weekly and a full charge monthly.
The G3 Pro also calculates electrical impedance and, if subsequent shocks are necessary, energy is escalated to deliver therapy at an appropriate higher level.
"There are a number of key features in the Pro, with one of the most significant relating to reliability — it features daily self-tests for all of the critical components," Martin said.
"The Pro's color ECG also displays the patient's heart rhythm, waveform, the number of shocks delivered and the elapsed rescue time. This is exactly the information we believe a first responder needs.
"Another great benefit is that the G3 Pro is a portable defibrillator and cardiac monitor in one, so that's one less piece of equipment first responders will need to handle and allows more time to focus on the patient."
Cardiac Science markets automated external defibrillator (AED) and electrocardiograph (ECG) devices, cardiac stress and Holter systems, vital signs monitors, cardiac rehabilitation telemetry, AED management programs and data management systems that connect with hospital information (HIS), electronic medical record (EMR), and other information systems. You can find them on the Web at www.cardiacscience.com.

Request product info from top Fire AEDs companies
Thank You!