ZOLL's X Series: Smaller, smarter defib
New defibrillator packs Wi-Fi connectivity in a tiny package
---
Earlier this spring, ZOLL introduced its X Series heart monitor and defibrillator that tips the scale at 12 pounds in a 16-cubic-inch package. Additionally, the unit's design was specified by the U.S. military for durability.
Despite what company representatives say is half the size and weight of competitor units, the X Series attention grabber is its increased level of technical sophistication.
"It's a data device that shocks once in a while," said Jon Cloutier, ZOLL's marketing manager.
The device has integrated Wi-Fi, Bluetooth and USB-port capabilities. It is, Cloutier said, the world's first defibrillator with Wi-Fi capabilities. That means that it can transmit patient data to a hospital in real time, allowing hospitals to mobilize resources before arrival and reduce the amount of time medics are communicating via radio with hospital staff.
The unit's CPR monitoring pads are connected to the defib pads, which displays CPR feedback data on the X Series dashboard. It displays compression depth and rate as well as an indicator that shows when to release for full recoil. It also has a metronome to aid compression timing. It can simultaneously display multiple waveforms, including four physiological waveforms or all 12 ECG leads on-screen.
The device can be used for adult, pediatric and neonatal patients.
It's lithium batteries give the unit six hours of run time. And battery power, said Cloutier, has always been the Achilles heel of defibrillators.
This much change does come at a price. Cloutier said the X Series sells for about $5,000 more than similar units.
The device has not yet cleared for sale in Canada as the company's medical license in that country for the unit is still pending.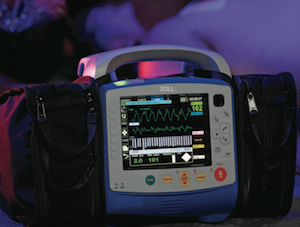 Request product info from top Fire AEDs companies
Thank You!