3 ways Akron Brass is helping firefighters improve water operations
In a profession where seconds count, ineffective firefighting equipment can make the difference between life and death
---
Sponsored by Akron Brass
By Sarah Calams for FireRescue1 BrandFocus
Proper water flow during fireground operations has a critical impact on fire control outcomes.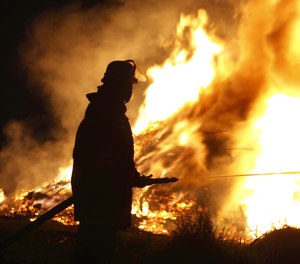 For example, improper or inadequate water flow can lead to increased fire loss as well as greater risk to firefighters and fire victims. Moreover, excessive water and leaky nozzles can contribute to property loss and hinder accurate fire investigations.
However, thanks to today's advances in technology, firefighters now have the ability to measure and evaluate their water flow operations. Additionally, crews have better access to handline nozzles that are flexible and ergonomically designed and can rely on portable monitors to help free up firefighters on scene.
A century-old firefighting equipment company
On December 26, 1918, Akron Brass, a manufacturer of firefighting equipment, was founded in Akron, Ohio.
Now, a century later, the company remains committed to serving firefighters by providing safe, effective and technologically advanced equipment such as fire nozzles, valves and monitors.
As experts in water flow operations, Akron Brass is constantly innovating their products for durability and reliability.
Is your department struggling to maintain or establish proper water flow? Find out how these three Akron Brass firefighting products can help your crews perform safely and effectively during fireground operations.
1. Know your flow on the fireground by using AkroFlow.
A fire scene can be busy and chaotic, but don't let that overwhelm your crews.
The AkroFlow flow meter, a 2" full-bore corrosion resistant polymer bodied electromagnetic flow meter, was designed to measure flow for testing, training and active water flow operations. Thanks to its design, only one meter is required for multiple hose sizes.
With best-in-class accuracy at +/-1%, the AkroFlow minimizes flow disturbances as a result of no moving parts in the flow path.
The AkroFlow is also:
Corrosion resistant with a composite body, stainless steel electrodes and clamps, and black hard coat aluminum inlet/outlet.
Always ready – there is no calibrating or charging necessary.
Lightweight and compact – at just under 5 pounds and 12" long.
A cover, which protects the AkroFlow from dust and UV rays, allows for easy access to the LCD flow rate and totalizer display. And, the AkroFlow is powered by six AA lithium batteries – making it that much easier for crews to keep this vital piece of equipment readily available on the fireground.
2. Hit low, hard and far with the Mercury Quick Attack LE portable monitor.
Avoid wasting precious seconds while on the fireground.
The Mercury Quick Attack LE is the only portable monitor to meet NFPA 1964 and EN-15767-1. Weighing only 15 pounds, its compact and lightweight designs allows for quick deployment.
The 500 gpm portable monitor hits low at 10° and as far as 250 feet at 100 psi.
The Mercury Quick Attack LE monitor has a(n):
Easy open/close valve
Carrying handle
2-1/2" Ball valve for advancing or extending a line
Safety strap attached with bag for easy stowing
3. Akron Brass handline nozzles are flexible, ergonomically designed for your crews.
Rest easy knowing your gloves will no longer get in the way of properly holding, operating and maintaining control on a handline nozzle.
Akron Brass' handline nozzle line recently received a refresh, including the ability for departments to easily and quickly color code. Ultimately, this important update allows crews to better identify pre-connects and manage inventory.
The nozzle line refresh also includes these improvements:
Ergonomic pistol grip for handling
Improved handle for flexibility with extra room for gloved hands
Upgraded pressure and flow indicators
Firefighting equipment that's designed to last
The AkroFlow, Mercury Quick Attack LE portable monitor and handline nozzle refresh all have one thing in common: they allow firefighters to perform their jobs safely and efficiently.
And, in a profession where seconds count, ineffective firefighting equipment can make the difference between life and death. With 100 years in the firefighting equipment industry, Akron Brass' products are designed and manufactured to meet and exceed the fire service industry's needs for years to come.

Request information from Akron Brass Company
Thank You!