A tool to protect every tool on your fire apparatus
Smart storage does more than help you get the most out of limited space – it also helps keep crews safe
---
By: Robert Avsec for FireRescue1 BrandFocus
What's one of any fire department's greatest challenges when it comes to equipment carried on its apparatus?
If you answered how to get the most out of your available storage space, yours is like most fire departments. And you want to make sure it's all stored safely and easily accessible too, right?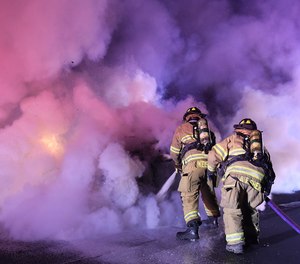 Well you've come to the right place because ZICO has the right storage device for any equipment you need to carry aboard your fire apparatus.
You may not be familiar with the name ZICO, but I'm betting you've been using their products on and off your fire apparatus for many years. Ever heard of a Ziamatic Smoke Ejector bracket?
For more than fifty years, Ziamatic Corporation has been providing fire departments and firefighters with the equipment they need to make their jobs safer, easier and more efficient. Currently, Ziamatic offers a wide range of economical, high quality and innovative products in its ZICO product line that are designed to exceed the demands of an ever-evolving fire service. Those tools include many that firefighters have grown accustomed to using – from SCBA brackets to forcible entry tools and ladder access systems to wheel chocks.
Today, the ZICO brand includes a full range of the products that your fire department needs to safely, effectively and efficiently store your hand tools, power tools and other equipment. And today, that means more than just getting the best use out of every available cubic foot of space in a compartment, right?
FIRE APPARATUS SAFETY FEATURES
The technical committee for NFPA 1901: Standard on Automotive Fire Apparatus (2016 Edition), has made the safe storage of firefighting equipment and firefighter PPE aboard fire apparatus a higher priority.
Where equipment, other than that originally mounted [at the time of manufacture] on the [fire] apparatus is to be carried, the fire department should ensure that the equipment is securely attached to the vehicle with appropriate holders (NFPA 1901, Annex A, A.15.3.2).
The standard goes on to specify that equipment holders or compartments shall be provided for all tools, equipment and other items that are on the fire apparatus. Those equipment holders shall be attached and shall be designed so that the equipment remains in place under all vehicle operating conditions. All tools and equipment shall be readily accessible (Chapter 15, Section 15.3).
One example is the vertical storage of SCBA cylinders in tubes where the standard states that "The base of the storage tube must have a rubber, plastic, or similar device to prevent wear on the cylinder and to prevent damage if the cylinder is accidentally dropped into the storage position. Each storage tube shall have a drain to prevent accumulation of moisture." (Chapter 15, Section 15.5.5.1).
The Zico Plastic Air Cylinder Rack fits the bill. Measuring 8-inches square by 24-inches long, it is constructed using heavy-duty molded plastic and is designed to fit any SCBA cylinder as well as most common 20-lb. or smaller fire extinguishers. And it has strategically placed holes that allow for efficient airflow and water runoff (to prevent that accumulation of moisture).
How to keep those liquid storage containers (e.g., gasoline for chainsaws) safe and secure on fire apparatus? The Zico Round Safety Can Mount is just one of several products in the ZICO line of products that are designed for the safe and secure storage of those storage containers. Another is the Zico Rectangular Holder for use with containers ranging from three to five gallons. Like the Round Safety Can Mount, it comes with a 1-inch nylon safety strap and quick-release buckle.
The Zico Spray Can Holder keeps aerosol spray cans—up to 12 oz.—secured and organized and reduces the risk of those cans rolling, falling, leaking, or being dented or punctured during transport.
PROTECTING YOUR EQUIPMENT INVESTMENT
Then there's the dollar value of the equipment that your fire department has invested in. Like many fire departments, your fire apparatus is likely carrying a greater number of portable battery-powered equipment like hydraulic spreaders, cutters and rams, along with an assortment of biomedical equipment. These types of high-value equipment need secure storage devices to assure their operational readiness and to protect your department's investment.
In an article entitled, Speccing a new pumper: Where to begin – Part 2, I spoke with Jim Lyons, a fire apparatus consultant, who had this to say about the trend towards fire departments using more battery-powered equipment:
"I have seen a dramatic shift away from on-board generators in 2019 and related components (e.g., hydraulic reels, electric cord reels, traditional hard-wired tripod lights) in favor of battery-powered products," Lyons said. "Battery-powered tools will continue to become a popular item, and I believe we will continue to see fire departments specifying fewer on-board generator systems for new fire apparatus."
The width on Zico's Adjustable Chain Saw Mount can be adjusted to better fit any chain saw width and can accommodate most gas-powered saws, including circular and chain. The Zico Reciprocating Saw Holder provides safe and secure storage of most common sizes of battery-powered reciprocating saws and can be mounted either vertically or horizontally depending upon the need.
The Horizontal Extrication Tool Holder features four components that enable you to configure the holder to fit virtually any cutter, spreader or combination tool.
These are just a few examples of over 300 different products in the ZICO brand. When it comes to keeping the equipment carried on your department's fire apparatus safe and secure and ready to use, ZICO's years of experience at doing just that can ensure you've got the right tools for the job.

Request information from Witmer Public Safety Group, Inc.
Thank You!