Apparatus storage solutions allow for quick grabs and safe operations
Where and how equipment is stored can streamline fireground ops, extend the life of your tools and protect your people
---
Content sponsored by Ziamatic
When purchasing a new apparatus, few things are left to chance. For most agencies, at least some thought is put into where tools will be placed and how to store them. It may not be one of the most glamorous elements of speccing a new apparatus, but it is important.
Let's consider several key reasons why tool and equipment storage on the apparatus is essential for your operations, safety and even your bottom line.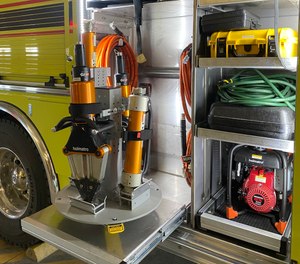 NFPA requires that you care
When designing and maintaining a piece of fire apparatus, NFPA 1901: Standard for Automotive Fire Apparatus is an excellent place to start. NFPA 1901 is used by manufacturers as a guide in the design, and most vendors will, by default, deliver a truck that complies with the applicable portions of the standard.
The standard speaks to mounting in numerous places, but two major points are worth considering:
"14.1.11.1 – All equipment required to be used during an emergency response shall be securely fastened"
14.1.11.2 – All equipment not required to be used during an emergency response, with the exception of SCBA units, shall not be mounted in a driving or crew area unless it is contained in a fully enclosed and latched compartment capable of containing the contents when a 9 G force is applied in the longitudinal axis of the vehicle or a 3 G force is applied in any other direction, or the equipment is mounted in a bracket(s) that can contain the equipment when the equipment is subjected to those same forces"
What does this mean? If you are in an accident, the equipment in your cab needs to stay put during the force of the collision. This will reduce the chance of a piece of equipment coming loose in the cab and striking an occupant. We can provide an added safety margin in an apparatus collision by properly mounting equipment. Even a tiny piece of equipment like a portable radio can cause injury if propelled out of a substandard mount during a crash.
It's also important to use helmet mounts or grab helmets from an exterior compartment. The 5-10 seconds it takes to retrieve a helmet from a mount or the cabinet is also time to take in what's happening on the fire. Plus, helmet mounts can be used to secure other heavy items commonly found in cabs.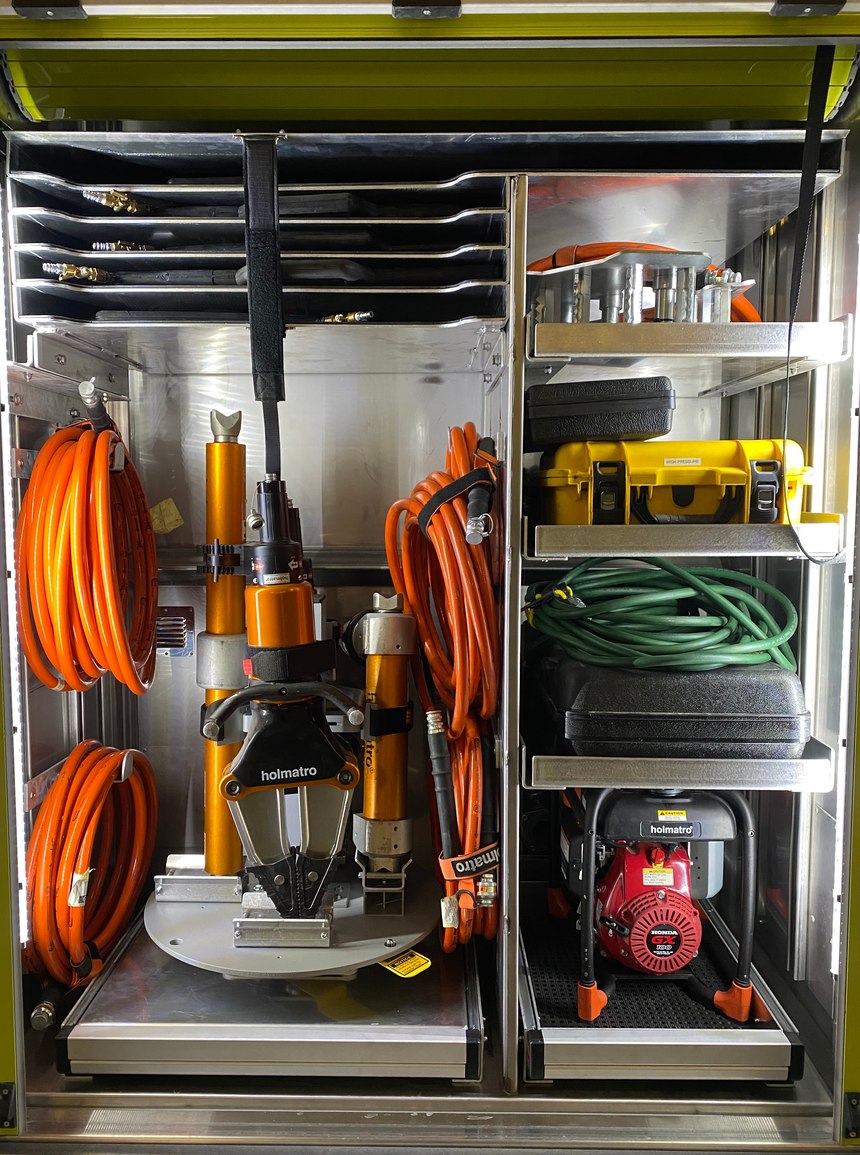 Streamline fireground operations
Tool storage solutions can also help with organizing a compartment. Consider organizing items according to a function or assignment. Can you design and spec a system to safely hold extrication tools so they aren't damaged by moving around and are easier to grab on the scene? What else could you store with them by using a organization-focused system? Structs, cones, cribbing – all could be incorporated in a storage system to allow for one-stop grabs at a vehicle extrication.
Additionally, the less time crews are digging in a compartment outside the apparatus, the less time they are exposed to the hazards of passing vehicles and a potential struck-by incident.
Extend the life of the tools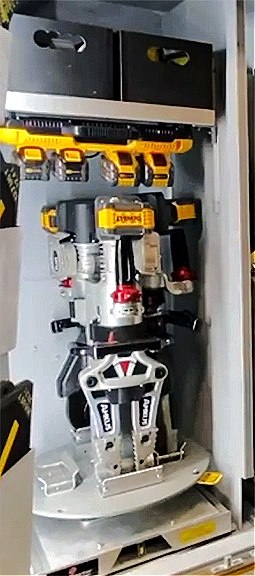 How are your tools secured and organized in the cabinets of your apparatus? In the event of a collision or fast stop, will equipment shift and be damaged or be ready for use?
Many options are available, from flexible mounts, shelving systems, pull-out racks, etc., that will allow you to keep tools secure. This will protect your equipment investment and reduce the chances of damage to your apparatus. For example, rollup doors can be easily damaged from the inside if items become dislodged, and they could become jammed inside. In addition, a heavy tool falling against a traditional cabinet door could cause a misadjusted latch to open, allowing equipment to fall from the apparatus.
Equipment rubbing against compartment floors or shelving can also lead to damaged components and unnecessary wear and tear. Most tools can be mounted in a tool holder to prevent this and allow for quick retrieval on scene.
Protect your people
Unsecured or dislodged equipment poses a danger to your members. A quick search of near-miss reports illustrates the importance of proper storage. Few would expect a tool to fall from a compartment when it is opened; however, one account told of an extrication ram that fell from an apparatus during a routine truck check. Unbeknownst to the engine crew, it had become dislodged inside the cabinet and fell to the floor when a compartment was opened, narrowly missing a firefighter's foot. As they were in the station, the standard pair of uniform boots would have done little to soften the blow.
Essential additions
Tool storage systems might not be the first booth you think to stop at when attending your next vendor show, but they are an essential way to protect the tools and equipment you are excited to buy, and keep your responders safe and efficient.

Request information from Ziamatic Corp. (ZICO)
Thank You!