Foam choices: Matching the foam to the fuel
One of the keys to foam use is knowing which foam will best combat which type of fire
---
Firefighters and officers can do their job more safely, effectively and efficiently by correctly matching the appropriate firefighting foam to their fire suppression needs.
These fires types range from eucalyptus tree-fueled wildland fires in California to structural fires to flammable liquid fires. Mixed land use like business and residential, residential near commercial and industrial, and wildland-urban interface situations also make it important for a proper application match.
Foam has earned a reputation within the fire service for its ability to: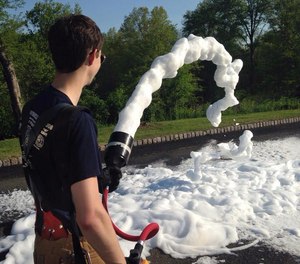 Cover horizontal surfaces so that water remains in contact with hot surfaces longer and absorbs more heat.
Flow freely over a burning liquid surface and form a continuous blanket that seals volatile combustible vapors from access to air.
Provide a visual confirmation that the fuel surface has been covered in situations where a fire has been extinguished or ignition has not occurred.
Pretreat structures for protection against impending wildland fires.
Regular protein foam
Regular Protein (RP) foam is the direct descendant of the original protein firefighting foam that was first developed in the 1930s. RP foam has slow knockdown characteristics but provides superior post-fire security because it produces a homogeneous, stable foam blanket that has excellent heat-resistance and drainage characteristics.
It also has excellent burn-back resistance. This is the ability of the finished foam to resist direct flame impingement such as would occur with partially extinguished petroleum fire or with Class A foam in exposure protection and pretreatment.
Fluoroprotein foam
Fluoroprotein foam (FP) is made by the addition of special fluorochemical surfactants to RP foam. FP foam provides fast fire knockdown, better resistance to fuel pick-up and greater compatibility when used in conjunction with dry-chemical extinguishing agents. 
FP foam should only be used to combat fires involving hydrocarbon fuels and select oxygenated fuel additives. It should not be used on fires involving ethanol-gasoline blends containing more than 10 percent ethanol.
Film-forming fluoroprotein foam
Film-forming fluoroprotein (FFFP) foam is a combination of fluorochemical surfactants with protein foam. These are designed to combine the fuel tolerance and burn-back resistance of a fluoroprotein foam with an increased knockdown power.
In addition, FFFP foam releases an aqueous film on the surface of the hydrocarbon fuel — this film layer is what prevents volatile vapors from escaping the liquid.
Aqueous film-forming foam
Aqueous film-forming foam (AFFF) was first developed by the U.S. Navy in the early 1960s and has been the "rock star" of firefighting foams for many years. The addition of fluorochemical and synthetic foaming surfactants improved firefighter safety, particularly for firefighters involved in crash fire rescue operations. AFFF was also the first foam that firefighters could apply using structural firefighting nozzles. 
For many departments, AFFF was the dominant Class B firefighting agent for use on fires involving simple hydrocarbon fuels like crude, diesel, jet fuel, home heating oil and nonoxygenated gasoline.
With the advent of federally mandated oxygenated gasolines, as well as gasoline-ethanol blends of varying concentrations, AFFF is no longer the optimal foam for those types of fuels. Enter AR-AFFF — alcohol-resistant AFFF.
Alcohol-resistant AFFF
AR-AFFF is the firefighting agent of choice for fires involving all types of hydrocarbon or solvent fuels. These solvents include ethanol and ethanol-blended gasoline (E-10, E-85 and E-95), acetone, methanol, ethers, esters and some acids.
AR-AFFFs provide longer residence time in vapor suppression situations, particularly when firefighters encounter unignited fuel spills. AR-AFFF is required for fires and vapor suppression of spills involving E-10, E-85 and E-95 gasoline-ethanol blends now being carried in standard over-the-road gasoline tankers for delivery to retail gas stations.
Alcohol-resistant FFFP foam
Alcohol-resistant FFFP is produced from a combination of protein foam, fluorochemical surfactants and polysaccharide polymer. AR-FFFP foams act as conventional FFFPs on hydrocarbon fuels forming an aqueous film on the surface of the hydrocarbon fuel.
When used on polar solvents (or water-miscible fuels), the polysaccharide polymer forms a tough membrane, which separates the foam from the fuel and prevents the destruction of the foam blanket.
Both AR-AFFF and AR-FFFP foams are available as 3% to 6% concentrates, which are designed for use on hydrocarbon fuels at 3% and polar solvents at 6%.
Mid- and high-expansion foam
Mid- and high-expansion foam (MHEF) was once popular in the late-1960s through 1970s for use in confined-space fire suppression such as mines, tunnels and basements. However, it fell out of vogue primarily because application appliances tended to be large and unwieldy. 
MHEF has seen a resurgence in its use recently for aboveground use in engineered fire suppression systems in aircraft hangars, tire warehouses rack storage and chemical manufacturing. MHEF also has been found to be effective in suppressing liquid natural gas events.
Class A foam
Class A foam, first developed in the 1980s, combined water and foaming detergent surfactants for firefighting in wildland settings. The mechanism of extinguishment was, and is, improved fuel hydration. Class A foam breaks down the surface tension of water which in turn enables the water to better penetrate the surface of the fuel.
Firefighters became fans of Class A foam for structural firefighting because finished it drains its wetting solution fairly fast, allowing the super soaking of fuels that normally resist plain water. When Class A fuels are pretreated with Class A foams, they tend to be more difficult to ignite because their level of hydration can be raised.
CAFS
Compressed air foam systems (CAFS) takes Class A foam solution performance to a new level through the addition of compressed air. Adding the compressed air to the foam solution dramatically increases the number and quality of the air bubbles in the foam — more and better bubbles is what quality foam is all about. 
The compressed air also enhances stream reach and residence time — the time that the manufactured foam adheres to its target — making it ideal for structural exposure protection or wildland fuel pretreatment.
This article, originally published in 2013, has been updated.