Successfully recruiting Generation Z to the fire service
Gen Z firefighters want to use touchscreen technology like the SAM water control system for pumpers
---
Sponsored by IDEX Fire & Safety
By FireRescue1 BrandFocus Staff
Generation Z – aka Gen Z, anyone born after 1997 – lives and breathes digital technology. They have grown up with touchscreens and graphical interfaces. "For them, technology is not a nice-to-have, but a need-to-have," says the APX Data white paper, "Recruitment for the Modern Fire Department – Are You Ready?"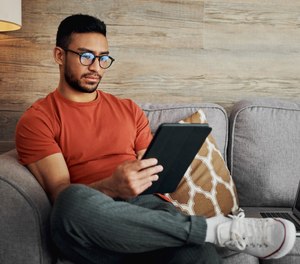 "Unless Gen Z sees real and effective use of technology in fire departments, it should come as no surprise that they are less likely to follow in their fathers' or grandfathers' footsteps and become firefighters."
The reality of Gen Z being the first "true digital natives," as the APX Data white paper puts it, must not be lost on fire department recruiters. Offering Gen Z a digitized workplace will help attract them to the firefighting profession, while sticking with mechanical interfaces on trucks will not. That's not all: According to the APX Data white paper, "The right technology will not only help attract the next generation of firefighters, but will also help reduce risk, increase efficiency, lower costs and potentially even improve culture."
One way to meet Gen Z's technology demands – because they are demands, not nice-to-haves – is through digital truck control systems such as IDEX Fire & Safety's SAM automated flow control system. Using a 10-inch touchscreen interface mounted on the truck's side, the SAM automated flow control system manages a fire truck's pump, tank, intakes and discharges; replacing the pressure governor while opening and closing valves based on operator settings. It also handles pressure surges due to hydrant flows and usage demands automatically, ensuring firefighter safety while optimizing fire suppressive performance.
Because SAM is controlled using a familiar touchscreen interface, Gen Z firefighters can learn to use the SAM system in about 10 minutes, said Chief Larry Moser of the Mount Hope Fire Department (MHFD) in North Carolina. The department adopted the SAM system on a new apparatus delivered in March 2021.  Having SAM onboard serves as a Gen Z recruiting tool, Moser noted, because candidates are impressed by his department investing in modern digital technology.
How SAM works
The SAM system takes all of the functions associated with fire pumper water operations – such as pumping and flow rates, connections to hydrants for refilling during pumping, and adjusting/balancing water pressures safely during operations – and controls them through one easy to read, drag-and-drop touchscreen interface.
There are many operational benefits to the SAM approach. For instance, being able to save individual outlet presets in the SAM interface allows pump operators to set discharge pressures fast. Having a system that can control up to 12 discharges (with six active at any time using different adjustable pressure levels) smooths operations while speeding up deployments. Even before charging the lines, the SAM system automatically opens the tank pump valve so water is in the pump and ready to go.
And when the commanding officer calls for the pumper to switch from its tank to a hydrant? SAM takes care of this transition swiftly and safely, controlling engine speed during the process to keep water flowing smoothly without disruption. It also monitors intake pressure from the hydrant, switching back to the tank if there are any interruptions in the supply lines while alerting the operator in the process. After an external water supply has been established, SAM automatically refills the pumper's tank so it is always full.
Good for all generations of firefighters
SAM's touchscreen control interface makes it attractive to Gen Z firefighters, and a useful tool for departmental recruiters trying to add this cohort to the ranks.
However, the benefits of replacing disparate "dumb" manual water controls with a centralized intelligent digital control system extends to all members of the fire crew, whatever their generation. This is because SAM does all the water flow balancing and other monitoring tasks for firefighters, allowing them to focus on putting out fires. SAM keeps the water flowing at operator-controlled rates, keeping the pump cool and handling all the hiccups that can cause manual systems to impede fire suppression, demand firefighter attention and potentially result in injuries to personnel and damage to equipment.
SAM also reduces the need for some of the arcane knowledge/experience required for traditional pump operations. This means a new firefighter can quickly master pump operations using SAM, without knowledge having to be passed onto them by more experienced hands. At a time when Baby Boomer firefighters are retiring, this matters.
The SAM automated flow control system is an excellent Gen Z recruiting tool. But it also offers benefits to all firefighters and their departments in terms of better, safer pumper operations, quicker responses to hose pressurizations and deployments and freeing fire crews to put out fires rather than manage water issues.
Get more info at SAMflows.com.
Read next: The highs and lows of water flow

Request information from IDEX Fire & Safety
Thank You!