Apparatus Advances in 2007
---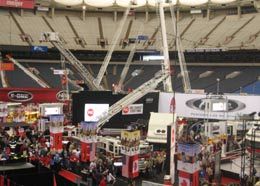 Photo Jamie Thompson
Apparatus on display at the FDIC in Indianapolis in April.
At the beginning of the year, the fire apparatus industry really seemed as if it would suffer because of the new 2007 EPA Guidelines for Diesel Engines. While it wasn't all smooth, it didn't turn out as bad as some had imagined. Admittedly, it did require a lot of redesign and engineering of cabs and bodies to have the new engines fit. But it seems that sales have increased in the second half of the year, with many large orders being placed despite the new designs.
This year brought us the PUC from Pierce Manufacturing, which is a new concept that provides ease of maintenance with easier access to the pump, engine and transmission as well as a Pierce Pump. The vehicle also has more compartment space, chest-high cross lays and easier access to the rear hose bed by an angled ladder.
E-One had an extremely busy year, with several new products being launched including a new ARFF Vehicle, the Titan Force 6, with a five-person cab, exterior pump panel, multiple roof and bumper turrets, 3170 gallon poly water tank and a 437 gallon poly foam tank.
Also designed was the urban pumper, with a low ergonomic hose bed and a hybrid energy command vehicle for homeland security use. At FRI in Atlanta, it  introduced a new SUV command vehicle — Comms-One — which promotes command interoperability in radio communication.
In more recent months, KME introduced the Challenger pumper line. The Challenger family features 36 different body configurations in steel, aluminum or stainless with 29" deep body compartments for added storage. It has numerous hose bed and compartment configurations including high capacity and low, easy-access hose beds. All can be built on KME Custom or commercial chassis.
Meanwhile, Ferrara's main launch in 2007 was the Heavy Duty 5 section Midmount ladder, which touts a shorter wheelbase and a lower overall height.
In addition, Crimson has built a new pump panel — ControlXT — in conjunction with Fire Research Corporation. It incorporates a more easy-to-read panel with engine information, water and tank level gauges, pressure governing systems and other customer-selected controls and displays. ControlXT will be standard or optional on all Crimson product lines.
Finally, Rosenbauer America debuted the T-Rex in 2007. In conjunction with Metz, the new articulating platform sets up in 25-30 seconds, has an aerial height of 102' equipped with a 2000 gpm pump and room for 115' of ground ladders. It also features a platform collision avoidance feature and a 1400 lb tip capacity.
All of the manufacturers are building and designing with firefighter safety in mind, which in my book is something that should continue in the coming years. More attention is being placed on larger cabs with more room for firefighter comfort and safety, lower hose beds and increased storage space as well as multi-tasking vehicles because we are all trying to do more with less in this day and age.
Just when you think nothing else could be possible, the fire apparatus engineers come out with another new idea that takes the industry by storm. With all of these new innovations that were introduced this year, I can hardly wait for the offerings in 2008. It should prove to be an interesting year. If that is not enough, newer stringent EPA Diesel Engine requirements crop up again in 2010. Oh well!

Request product info from top Fire Pumps companies
Thank You!