How the powerful vehicle-mounted high-pressure pump was engineered
For more than 40 years the WATERAX BB-4 pump has helped wildland firefighters battle fires
---
This is paid sponsored content by WATERAX.
By Robert Avsec for FireRescue1 BrandFocus
Wildland firefighters need more than just portable pumps, and the WATERAX answer is the BB-4 series of high-pressure multi-stage pumps—one of the company's many innovations in wildland firefighting pumping technology.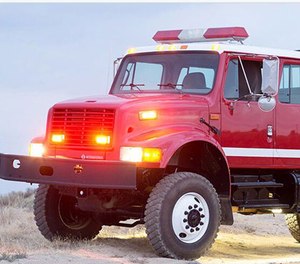 WATERAX continued to innovate and now has several patents, including for the BB-4 mounted high-pressure fire pumps.
What is the BB-4 series?
By 1964, the WATERAX portable high-pressure wildland firefighting pump—now the MARK-3 series—had become the "gold standard" in the wildland firefighting community worldwide, according to Frédéric Lefrançois, vice president of product development for WATERAX.
Not content to rest on its laurels, WATERAX recognized the need for more powerful pumping options in the wildland firefighting world.
That pursuit by WATERAX engineers would lead to the company's development of the BB-4 series of high-pressure centrifugal pumps, which quickly became the pump of choice for wildland firefighting apparatus.
The BB-4 Series is a full-line of high-pressure centrifugal pumps that combine the more powerful four-stroke engine with WATERAX's patented detachable high-pressure multi-stage pump end.  It comes in portable- and vehicle-mounted configurations and all models feature a unique greaseless sealed bearing as well as a blister-resistant mechanical rotary seal.
"With the 185 cc Rotax two-stroke engine we had found the 'sweet spot' in terms of power-to-weight ratio," Lefrançois said. "But for larger applications, like a truck-mounted pump, we needed to provide a more powerful engine and that led to the four-stroke engine."
Why is a four-stroke engine important?
There are several reasons why high-pressure pumps should have a four-stroke engine option.
A four-stroke engine offers more power, Lefrançois said. In addition, the lubricating oil for the engine is in a crankcase.
"This means greater reliability and longer engine life, as opposed to the gas/oil mixture that provides lubrication for a two-stroke engine, he said.
In addition, firefighters don't have to carry both gasoline and the lubricating oil required for a two-stroke engine. Combining the WATERAX pump-end with a four-stroke engine gave wildland firefighting agencies the flexibility of using both gasoline and diesel fueled four-stroke engines.
"Since wildland fire engines were being powered by both gasoline and diesel fueled engines, the four-stroke engine options for the BB-4 meant that the same fuel being used to power the fire engine could also be used to fuel the pump," Lefrançois said.
In order to make the four-stroke engine option a reality, WATERAX engineers had to find a solution to a very vexing problem: four-stroke engines typically turn the drive shaft at around 3600 RPMs making them incompatible with the WATERAX pump-end which required 6000 RPMs for maximum effectiveness.
Engineers solved this problem by developing a speed increaser interface that takes the four-stroke engine's 3600 RPM output and "ramps it up" to the 6000 RPMs required by the pump-end for maximum output.
"With this development, we could now offer a wider variety of engine options to our customers in both gasoline and diesel models," Lefrançois said. "This enabled us to expand into the truck-mounted high-pressure pump market."
How did this change firefighting operations and wildland firefighting apparatus?
The BB-4 series of multi-stage high pressure pumps quickly became a popular pump for use on wildland fire apparatus for those same reasons, according to Lefrançois.
A unique feature of the BB-4 pump is the quick release pump end that is interchangeable with the company's other line of portable MARK-3 high-pressure pumps which greatly reduces the need for maintaining spare parts inventory and allows for quick in-field swap outs.
"The beauty of this is that the MARK-3 and the BB-4, they use the same pump end," Lefrançois said. "So if the pump end on your BB-4 goes down you can replace it right there in the woods with another pump end from a MARK-3."
This degree of standardization between the MARK-3 series of portable pumps and the BB-4 series of pumps has led to the standardization of training and maintenance and procurement policies across many wildland firefighting agencies.
"All of those important support functions for wildland firefighting become much more simple and easier to manage when everyone is working with the same detachable pump-end," said Lefrançois.
According to Lefrançois, when the U.S. Bureau of Indian Affairs (BIA) was designing the Model 52 wildland fire engine as its prototype fire apparatus for wildland firefighting, its designers selected the WATERAX BB-4 for the on-board fire suppression pump.
The program, initiated in 1996, provides over 200 standardized, cost-efficient wildland Type 4 and Type 6 fire engines to the BIA and participating Tribes.
"That Model 52 fire engine, using the BB-4 pump, became the architecture for the Type 6 fire engine used today by the U.S. Forest Service, BLM [Bureau of Land Management], and other forest firefighting agencies in the U.S., Canada and around the world," Lefrançois said.
WATERAX has invented several technologies that truly changed how wildland firefighters approach their job, whether that is with a portable MARK-3 or their BB-4 vehicle-mounted high-pressure pumps. The company plans to continue innovating to meet the evolving needs of today's wildland firefighters.
For more information on the BB-4 series of multi-stage high-pressure fire pumps, contact WATERAX.

Request information from Waterax
Thank You!