Phantom Controls introduces automated fire pump with remote controls
The Scene Apparatus Manager frees the operator to focus on crew safety, needs and fireground operations, while managing the truck via a tablet
---
Phantom Controls, like most innovation, was borne out of frustration and a desire to see if there was a better way.
Seven years ago, St. Louis-area firefighter Jason Cerrano was running around a fire scene frustrated about his lack of mobility as the operator. That night, he went back to the station and the seed that would grow into Phantom Controls was planted.
Cerrano, who is also a mechanical engineer, developed the concept for an automated fire pump with remote capabilities. The Scene Apparatus Manager (S.A.M.) handles all pump operations for the truck operator, allowing him the freedom to move about the scene and work with the crew.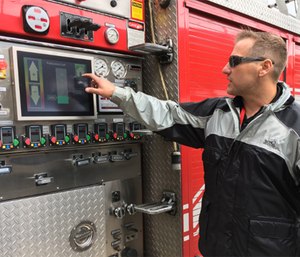 The company was demoing the system on a 17-year-old fire truck from the St. Louis Fire Department that they retrofitted with the S.A.M. system.
"This truck has been beat to death for 17 years and now it's the most advanced truck out there," Cerrano said.
He noted that S.A.M. frees the operator to focus on crew safety, crew needs and fireground operations, while managing the truck from the best vantage point and safest position via a tablet.
Cerrano has multiple patents related to his technology.