Quebec's C.E.T. Fire Pumps Builds Cross-Border Markets
---
By Ed Ballam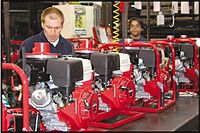 PIERREVILLE, Quebec — In 1985 when C.E.T. Fire Pumps MFG opened for business, no one paid much attention to the little company north of the border. Now, everyone wants to know who C.E.T. is as they carve out a larger and larger share of the portable pump market.
The big three pump manufacturers are sitting up and taking notice of this upstart that is making 10 to 20 portable pumps every day, selling them in all 50 states and 40 countries worldwide. C.E.T. pumps range in size from small, lightweight mini-pumps producing 75 gpm to large, 75 hp diesel-powered pumps with maximum outputs of 750 gpm.
"They're all talking to each other about us," says Stephan Thibault, C.E.T.'s president. "They are trying to find out about us. Lately, our dealer representatives have been called by other manufacturers and they're being asked who is C.E.T.? How big is C.E.T.? All of those questions. If they are asking those kinds of questions, we must be taking some market share."
Thibault is the grandson of the legendary Pierre Thibault. He founded Thibault Fire Apparatus, a company that dominated the Canadian fire truck market for 80 years, selling as much as 95 percent of all Canadian apparatus in service until its demise in the mid 1960s.
Through a series of business reorganizations, Stephan Thibault's father, Charles Etienne Thibault, founded C.E.T. Fire Pumps in 1985. "We were a very small company back then," says Stephan Thibault, who was a boy when his father started the company. "We had maybe five or six employees."
Now, they employ 42 people in a 30,000-square-foot building and gross about $8 million annually. "We know we are getting more and more market share," Thibault says. C.E.T.'s portable pump sales have increased consistently since 1995, going up 50 percent in the past two years.
"Every single customer, every single call is important to me," Thibault says. "Our philosophy at C.E.T. is customer service, customer focus. It is always customer dedicated."
C.E.T. National Sales Manager Ed Sutch quips that Thibault has a favorite saying that summarizes the company's philosophy.
"Stephan is always saying 'no problem,'" Sutch says. "No matter what it is, the answer is 'no problem.'"
"We want to give the customers what they want," Thibault chimes in. "We are the only company that will customize portable pumps and we'll do it for just one single pump. Tell me what you need and we can do it."
To have the confidence to say that takes a dedicated staff. Thibault has an older brother, Sylvain, in the business with him. Their mother, Claudette, is the company's chief executive officer. Stephan also has close friends and other family members working for C.E.T.
Sutch says staffers are well-versed in computer-aided drawings and are even better at following the plans. "It makes it easier for me and for the sales force to be able to say, 'sure, no problems,'" he says.
C.E.T. wants a happy customer. "They must be satisfied," says Sutch.
"Rather than having an unhappy customer, I'll take my pump back," Thibault says.
And that rarely, if ever, happens thanks to the company's dedication to quality. C.E.T. pumps have lifetime warranties on the bronze impellers, cast aluminum pump covers and pump casings.
The frames are made of high-quality steel and painted in-house. Engines vary with pump sizes and customer preferences. The company makes its own muffler draft units for the pumps. That attention to detail and quality allows C.E.T. to promise pumps capable of drafting water at a 20-foot lift.
Honda engines are popular for powering C.E.T. pumps, as are Briggs & Stratton, Kohler and Tecumseh, according to Thibault. C.E.T. uses larger diesel engines, including 75 hp Volkswagen engines, to power bigger pumps.
"One of my favorite sayings is you pick the engine, we'll hook up the pump," Thibault says. "For us, it doesn't matter what engine customers select."
C.E.T. salespeople will make recommendations regarding engine selections and help guide the customers to choose the pumps that best fit their needs.
The year 1995 was a high-water mark for C.E.T. After dominating the Canadian portable pump market with 95 percent of the market share, it was time for the company to take the next step.
"For me, I did not see any way to grow," Thibault says. "We could not grow any more in Canada so we decided to look to the U.S. market." At the time the company had two pump models. C.E.T. met Canadian needs well, but in the States, people are used to more variety. Today they offer 23 models.
Stephan Thibault's father, Charles, the company founder, died unexpectedly in August 1992. Stephan had graduated from university studies and became company sales director in April of that same year.
Suddenly, he was expected to take over the family business and guide it through the next transitions and shepherd its growth.
While Thibault fire apparatus was sold in the States, particularly around the border towns and through some government contracts, the C.E.T. brand was unknown in the U.S. Its pumps were introduced at the 1995 New York Fire Chiefs' show.
"We went there with only two pumps and we learned we did not have good versatility with our product," Thibault says. "So, we started with R&D,big time.We just couldn't satisfy the market with only two pumps."
Sutch says, "When we crossed the border, we learned that it was a very different market. We needed another 12, 13 types of pumps at least."
With the new products developed, Thibault started concentrating on the U.S. and international markets. C.E.T. developed good sales and a lot of dealers in the U.S., but Thibault found he was "spending too much time trying to handle both and not enough quality time with either markets."
He hired Ed Sutch from Glastonbury, Conn., as the U.S. national sales manager.
C.E.T. has connections with a lot of the big names in the fire service industry. It uses UPF polypropylene tanks for its skid units. Hannay reels and Scotty foam systems are installed on skid units per the customer's request. Akron valves are standard on all pumps as well as Kochek hoses and adapters.
"It's great walking into a fire station with those names," Sutch says, noting that every one is well respected in the fire service and known for high quality standards.
Thibault knows that to maintain position in the market he has to deliver what he promises and back it up with good service. That's why each pump built is run and tested to check for leaks, problems with the engines and, most importantly, to flow and pressure check them to make sure they are working to the specified capacities.
After the testing is completed, each pump is cleaned and boxed for shipping. The results of the tests are recorded and kept with a file that is created for each pump and identified by serial numbers on the pumps themselves.
C.E.T.'s prices are attractive too.
For instance, a basic mini pump with a 2 hp Honda engine, delivering 75 gpm at 20 psi is priced at $950. A 400 gpm pump with a Yanmar 10 hp diesel engine, electric start and a built-in scene light cost $4,950. Moving on up, a 550 gpm high volume pump, powered by a Honda 18 hp engine with electric start is priced at $4,500. One of the most popular models is priced at $2,750. It is a 350 gpm lightweight pump powered by an 11 hp Honda engine. All C.E.T. portable pumps come with priming systems that guarantee a 20-foot lift.
To keep up with the market, C.E.T. introduced its first compressed air foam system (CAFS) skid unit at April's Fire Department Instructors Conference in Indianapolis.
The new CAFS unit was engineered and built entirely in house with C.E.T. proprietary components and designs.
"We are very excited about our new CAFS," Sutch says.
"Each year we get a little more market share which is good considering we are going up against some of the biggest names in the world."
To keep up with demand in the States, C.E.T. opened a distribution facility in Plattsburgh, N.Y., which recently moved to Winooski, Vt. Every C.E.T. pump or skid unit sold in the U.S. passes through there before being shipped all over the country. Most units go directly to the customer.
Ed Sutch and Mike Purvis, who is based in Virginia, are the two main sales people. Purvis handles sales for the Southeast region, and a variety of equipment dealers all over the country handle sales in their own regions. To beef up the sales force, C.E.T. has signed with two manufacturer representative companies, JRL Marketing, covering the Midwest of United State and The Preventek Corporation, a technical support group on the west coast.
With all 50 states covered, Thibault has now been able to concentrate on building the international market.
"We sell products in 40 different countries," he says. "Some on a big scale, others on small scale. That small scale today might be a big scale tomorrow."
Asia is a big market at the moment and C.E.T. has pumps in service in the Philippines,Malaysia, Thailand and China. To help him cultivate the international market, Thibault has mastered English, Spanish and a little bit of German, as well as French, his native tongue.
He says there are really no secrets to the company's success — C.E.T. builds a good product that does what the company says it will.
"We let the pumps speak for themselves," Thibault says.
Backing that statement up, Sutch says that C.E.T. doesn't make empty promises.
"If we say the pump is going to do 200 psi, it has to do 200 psi and it will," Sutch says. "If we say delivery in two weeks, it better be there and it is. We have always done the best we can to meet those goals."
From nearly day one, the company has prided itself on the ability to deliver portable pumps in two weeks from the time the order is taken.
"From a sales point of view, saying the pump will be at your door step in two weeks is pretty impressive," Sutch says. Some 80 percent of C.E.T.'s business is focused on five pump models all of which are in the two-week delivery program. These popular pumps are the 11hp Honda powered pumps, the 18hp Honda-powered units, the floating pump, the 25hp Kohler-powered pump and a model the call the 18MR.
Some customized pumps with very large engines take longer for delivery, simply because it takes longer to get the engines.
The big break on the international market was C.E.T.'s exposure at the 2000 Interchutz fire show in Germany. C.E.T., along with a collection of other suppliers and vendors, had a 60-by-60-foot booth that was larger than the competitive portable pump manufacturers
"A lot of people started saying 'Who is C.E.T.?'" Thibault says with a chuckle.
That same question was asked when C.E.T. was awarded a State of Oklahoma contract for 100 portable pumps. Through a government bidding process, fire equipment is purchased through a single agency and then distributed to municipalities with a very small markup for administrative costs.
"Ever since we got the Oklahoma bid, people think we must be number one because that is a very competitive market," Sutch says.
For C.E.T., a big order is now 10 pumps at a time for the states, and 50 for the international market.
At the August International Association of Fire Chiefs' show C.E.T. expects to unveil a new brush truck built on the Ford F series cabs and chassis.
In an alliance with Ferrara Fire Apparatus in Louisiana, C.E.T. is constructing the brush trucks using technology the company has developed from its skid, or slide-in, unit business. The company is positioned to make the brush trucks competitively because another division of the Thibault holdings continues to refurbish and repair apparatus, as well as build a limited number of aerials for select departments. Thibault says the company has all the tools and all the skills necessary to build the trucks.
The brush trucks will be sold through the Ferrara Fire Apparatus dealer network, according to Thibault.
For the time being, however, portable pumps and slid-in units will continue to be the mainstay for C.E.T. That's how the company was built and that's how more and more customers are coming to know the builder north of the border.
"In order for us to continue to be successful, we have to be 100 percent customer dedicated," Thibault says. That means focus on the customer, quick delivery and products that do what the company says they will.
"We have to deliver what we say we will and keep our promises."

Request product info from top Fire Pumps companies
Thank You!