Storefront fire a foamy test for Chicago firefighters' newest gear
---
By Alexa Aguilar
Chicago Tribune
Copyright 2007 Chicago Tribune 
Distributed by McClatchy-Tribune Business News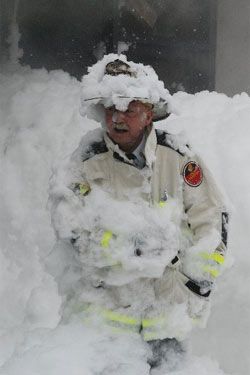 PHOTO BY TIM OLK, FIRE DEPARTMENT PHOTO UNIT
CHICAGO — A woman was hospitalized with minor injuries Monday after a fire swept through three storefront businesses in Chicago's Rogers Park neighborhood.
The blaze began about 2:15 p.m. in the basement of La Baguette Bakery, and then spread to a neighboring shoe store and a Colombian restaurant in the 7000 block of North Clark Street, fire officials said. The businesses share a common basement, a fire official said.
Employees at several businesses across the street said they heard a "boom," and then saw employees at the bakery, shoe store and restaurant running out of the building, as huge clouds of smoke billowed from the adjacent businesses.
About 150 firefighters, paramedics and support personnel were eventually on scene, after a mayday alarm came through when a firefighter couldn't be found inside, Chicago Fire Cmdr. Will Knight said.
The firefighter lost contact for a few minutes, which triggers an immediate signal, Knight said. He was found uninjured, Fire Commissioner Raymond Orozco said.
Once on the scene, firefighters pulled out a new high-expansion foam unit. The machine helps to smother the fire in hard-to-reach places, such as the bakery's basement, Orozco said.
As smoke poured out of the bakery's broken windows, firefighters hooked up a large, plastic tunnel to a firetruck and then connected the tunnel to the inside of the bakery. The foam, which resembled bubble bath, shot into the space, filling the building to its ceiling and pouring out into the street.
Eventually, the white foam covered the street and the firefighters.
The fire's cause is under investigation, Orozco said.

Request product info from top Fire Pumps companies
Thank You!