When IDEX met SAM: A match made to improve safety on the fireground
An inventor joins forces with an industry giant to speed development and further innovation of an automated flow control system
---
Sponsored by IDEX Fire & Safety
By Laura Neitzel, FireRescue1 BrandFocus Staff
Albert Einstein reportedly said that "Everything should be made as simple as possible, but not simpler." Achieving simplicity with precision is great in theory, but it has been a hard nut to crack in the fire service, where conditions can change in an instant and there is little to no room for error.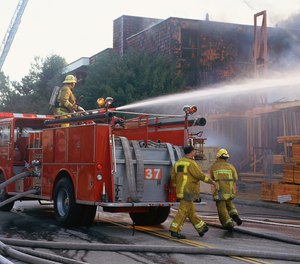 Any mistake or delay is measured in lives and property lost.
"It's all about the velocity on the fire scene," said Bill Simmons, a veteran firefighter and president of the Fire Suppression Group and North American Safety at IDEX. "The first five minutes determine the next five hours. The more we can make the teams on scene efficient and be able to get water to the seat of the fire, then the quicker the hazard is eliminated."
Although software-driven electronic control panels are commonly used for a number of functions on fire apparatus, they've not been used to get water on the fire before. That function has always relied on manual operations – that is, until veteran firefighter, engineer and entrepreneur Jason Cerrano designed and patented an automated flow control system.
When that system, SAM, made a splash at FDIC in 2017, IDEX took notice.
Parallel paths
The challenge with automation on a pump panel had always been that most pumps are configured with components from multiple manufacturers.
"It's kind of hard to get integration and alignment of those individual products that are all doing a separate function if you don't have control over all those to make them work effectively together," said Simmons.
IDEX had already acquired well-established brands like Akron Brass and Hale that make time-tested components to control water flow on the apparatus, so the company was in a good position to develop a unified control system.
"We had a goal to bring simplicity into the truck," said Simmons. "Our vision was, if we really have control of all these things, then we think we can make magic happen, which will enhance performance on the fire scene and really save time and introduce a level of efficiency the fire service hasn't seen."
While IDEX was pursuing pump automation on its own, Cerrano was already building and testing the automated pump control system he invented. As an entrepreneur, Cerrano had the determination to see SAM realized, but he could only take it so far. He needed a partner with more resources to take SAM to the next level.
The entrepreneur and an industry leader join forces
Cerrano had already proved some of the concepts IDEX was exploring and put into action some of the things they wanted to do, says Simmons. But it was Cerrano's passion and enthusiasm ­that convinced them they needed to recruit him to their team.
"Jason had the moxie and the idea," said Sean Tillinghast, vice president of strategic business development in the Fire & Safety Group at IDEX. "We really felt like, hey, here's somebody we can bring into the business. He's learned from his testing and he's failed a lot as he's developed a system. Those lessons learned are very important to us as we want to implement something into production."
Simmons describes IDEX as a collection of entrepreneurial companies that have come together with a common mission.
"We get the power of the backing of a large corporation and the scale that we can add with that, but still have that entrepreneurial feel like a small company, which is important," said Simmons. "We're looking for somebody who's got a strong spirit, a really good concept and something where we can add value. And I think that's why it was a good fit for Jason, too."
How IDEX is taking SAM to the next level
Cerrano had a working prototype with functioning units, but IDEX was able to add functionality to make the product something "the fire service could get their arms around," says Simmons.
IDEX put multiple engineering teams to work on different aspects of the system to further develop the concept.
The first step was to do the thing that IDEX was uniquely positioned to do: integrate durable and reliable components from the IDEX portfolio of brands like Hale and Akron Brass into a unified system.
The second step was to keep evolving the user experience.
"The magic is really all the back end and the user interface," said Simmons. "The fire service is always concerned about where it might fail and where might the problems be, so we built in multiple levels of redundancy."
One of the redundancies is the tablet that operates multiple controls on the truck. Each one operates independently, so even if one goes down ­– somebody puts an ax through a controller, for instance – the whole system doesn't go down.
Another level of redundancy is a manual override for every component so that if a valve is stuck, for example, the pump operator can still flip open the pump panel and manually close and open it.
"We put a lot of investment into how we make it simpler," said Tillinghast. "How do we make the user interface better? How do we start to get information diagnostics? How do we continue to add features that would help that speed and operational acumen on firegrounds?"
The IDEX engineering teams also added functions like auto tank refill and safety features like hot hydrant protection and pump health data to ensure that the pump doesn't overheat or cavitate.
What's next for SAM
Now that SAM has evolved beyond what its inventor could do alone, the next step is to get the system into more departments and onto more trucks. Trust is key to convincing departments to migrate to an automated flow control system.
"It takes a while to earn trust in the fire service, so if you're coming out with a new product, you better have had it out in trials for a while," said Tillinghast.
IDEX hopes to build on the trust gained over decades of providing quality products to the fire service – many of those same elements are now used to power SAM.
"The hardware that we're using for pretty much everything here has been used in the fire service literally for decades. We're using the same controllers and the same touchscreens and other components that are already proven and that are getting used every single day on fire trucks," said Simmons. "All we've done is repurposed it, and we've made it talk and communicate in a way that was never done before."
The way of the future
Ultimately, says Tillinghast, it makes a lot of sense to move toward simplification of pump operations on the fireground. As automation progresses, adds Simmons, there's also a whole new level of information available to operators.
"Those things together really help now change the paradigm a bit about decision-making, not just on a fire scene, but leading up to the first scene and how you're organized to go do the job," said Simmons.
Moving forward, IDEX will continue to spend a lot of time, energy and effort on making the SAM system as versatile as possible so it will fit a broad range of trucks and applications.
"I think everybody that sees it realizes it's the way of the future," said Simmons. "We want to continue to build that information set and put that at the right place at the right time for the fire service so we can empower them to take action. Those two things together will continue to increase velocity and improve safety, so we're excited about it."
Get more info from IDEX Fire & Safety.
 
In case you missed it: 'A zero-fail mission' – Why one firefighter risked it all to build a better fireground

Request information from IDEX Fire & Safety
Thank You!