Where's the Pump Panel?
---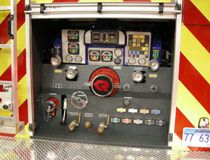 Photo Bob Vaccaro
Rear mounted pump and panel on a Rosenbauer vehicle.
When I first became a firefighter some 33 years ago, there was no question about where a pump panel was located on a pumper — on the left side of the vehicle. Aside from the occasional top mount that was produced, the panel was pretty much a given here.
The type of controls were also fairly uniform with standard mechanical, manually-operated gate valves. No one even thought of electric-controlled valves or flow meters back then. And as for color coding, if you wanted a certain line charged, the nozzle man told the pump operator or engineer what discharge number to open.
Unless you had a good idea about friction loss and how to pump, you were better off staying away from driving responsibilities of the vehicle. It was kind of intimidating looking at the panel for the first time; the number of gauges and valves was mind boggling, but as time went on and with training, I overcame my dose of pump panelitis.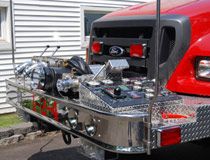 Photo Bob Vaccaro
Front mount pump and panel.
Thanks to modern technology, it's now much easier to operate a pumper or quint than it was back in the Dark Ages.
Keep simple
Having said that, the pump panel is one area many tend people to ignore when they are specing out a vehicle. It's important that the design thought process covers this vital area. The key here is to keep it simple, so that it's not confusing for your drivers or engineers to operate.
I have seen many pump panels out there that look like you need an engineering degree from MIT in order to get water on a fire. Pump panels should be kept uncluttered, with the main intake and discharge gauges large and easy to read. Water level gauges also offer different choices. You can use the standard level gauge that comes on the vehicle or install some large lights on the side of the cab to enable you to see the water level from a distance.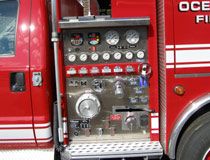 Photo Bob Vaccaro
Mini-pumper pump panel with larger intake and discharge gauges.
While there is some leeway in designing panels, NFPA 1901 still has to be used as the standard for installing controls and instruments as a group on the vehicle. It's a good idea to check everything first with the manufacturer's engineers.
Should you install old style, manually-operated gate valves and pressure gauges or the newer electric-operated valves and flowmeters? That is entirely up to you. Check with other departments around you and see the plusses and minuses of what they have. Also, check out some of the apparatus on display at local trade shows and see what is on offer.
Different mounts
Finally, where should the pump panel be placed? Options include the standard side mount, top mount, rear mount, side rear mount or in some cases even a front mount.  Again, the choice is yours.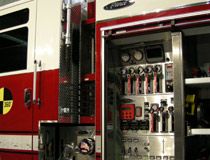 Photo Bob Vaccaro
New Pierce PUC pump panel under roll up doors, with better access to pump for maintenance.
Some departments prefer a top mount as it gets the firefighter off of the street and away from the intakes and discharges, and gives the pump operator a view of the scene. Some feel that the operator should concentrate on the pump panel and not be watching what is going on around the fireground.
Many newer vehicles, whether they be rescue or standard pumpers, have European-style designs, with rear mounted pumps and panels, or panels under roll up doors that are side mounted. Some of these offer more compartment storage space than others.
Like I always say,  design what is best for your community and design for functionality — not just for looks.

Request product info from top Fire Pumps companies
Thank You!