PRESS RELEASE
Phoenix Fire Department Orders 14 Pierce Quantum Pumpers as Part of Seven-Year Renewable Contract
---
APPLETON, Wis. (March, 2015) – The Phoenix, Arizona Fire Department (PFD) placed an order for 14 Pierce® Quantum® pumpers as part of a seven-year renewable contract. Under the terms of the contract, PFD has the opportunity to continue purchasing the same number of pumper vehicles each calendar year through 2022.

"The Phoenix Fire Department serves – with distinction – one of the nation's largest cities, and we're proud that Pierce has earned the honor of being PFD's long term fire and emergency apparatus brand of choice," said Jim Johnson, Oshkosh Corporation executive vice president and president, Fire & Emergency. "This major fleet order reflects the quality of Pierce products and the outstanding service and support team led by our Pierce dealer Hughes Fire Equipment."

Safety and performance were primary PFD considerations when selecting the Pierce Quantum engines. "We are an innovative department providing fire and EMS response services from our fire trucks so they have to perform at a high level," said PFD's Chief of Fleet Management, Scott Walker. "We work very closely with our labor group to ensure that we get the best, and safest, apparatus available to deliver the services we provide."
Each of the Pierce Quantum pumper apparatus is built on a 190.75-inch wheelbase and features TAK-4® independent front suspension and a 450 hp Cummins engine. The cab offers seating for up to six firefighters, with Pierce PS6 premium hi-back seats for the driver and officer, a flat interior floor, and Pierce's exclusive automatic folding steps for easier entry and exit. The firefighting system includes a 1,500-gpm single stage pump, a Husky® 12 Class A foam system, a 40-gallon foam tank, a 500-gallon water tank, a 22-inch front bumper extension containing 100 feet of 1.75-inch hose, and lowered crosslays.

The Phoenix Fire Department (PFD) is a progressive organization that provides top-notch fire suppression, emergency medical and transportation services, disaster response, fire prevention, and public education. PFD protects the largest city in Arizona and the sixth largest in the country. The department's philosophy emphasizes a commitment to customer service and positive community relations; PFD's mission statement reads, in part, "Our members will Prevent Harm, Survive, and Be Nice!"
Pierce dealer, Hughes Fire Equipment, provides local service and support. Visit www.hughesfire.com for more information.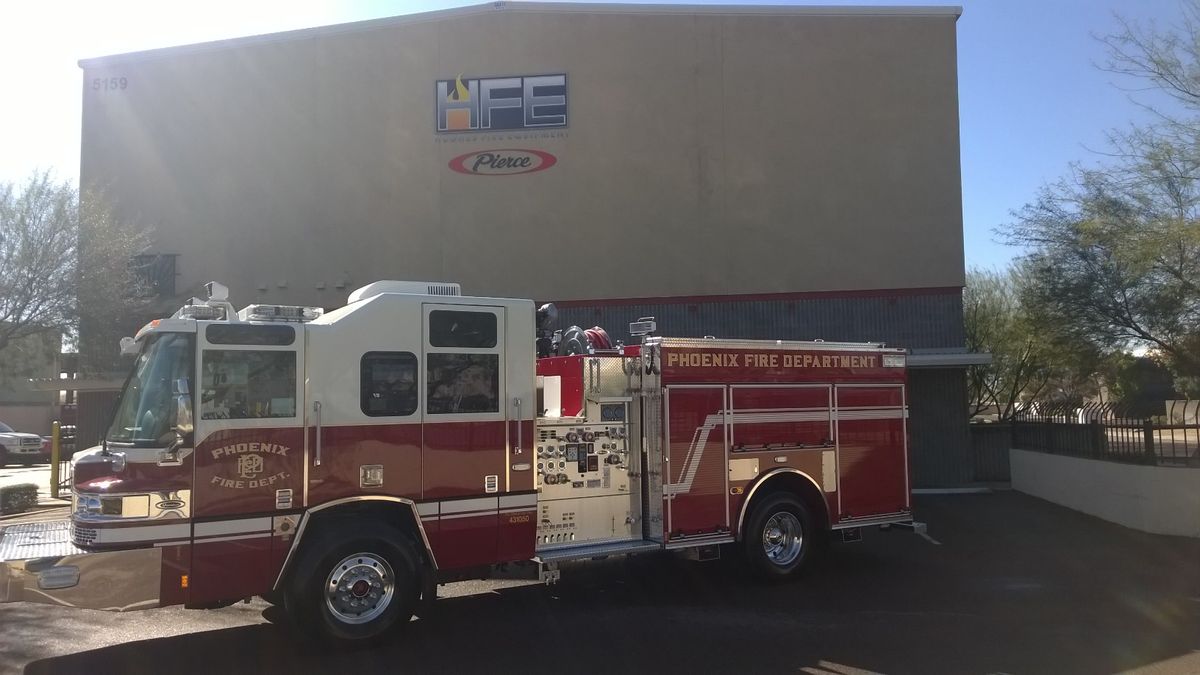 Photo Caption: The Phoenix, Arizona Fire Department (PFD) placed an order for 14 Pierce® Quantum® pumpers as part of a seven-year renewable contract. Under the terms of the contract, PFD has the opportunity to continue purchasing the same number of pumper vehicles each calendar year through 2022.

About Pierce Manufacturing
Pierce Manufacturing Inc., an Oshkosh Corporation [NYSE: OSK] company, is the leading North American manufacturer of custom fire apparatus. Products include custom and commercial pumpers, aerials, rescue trucks, wildland trucks, minipumpers, elliptical tankers, and homeland security apparatus. In addition, Pierce designs its own foam systems and was the first company to introduce frontal airbags and the Side Roll Protection system to fire apparatus. To learn more about Pierce, visit www.piercemfg.com.

About Oshkosh Corporation
Oshkosh Corporation is a leading designer, manufacturer and marketer of a broad range of specialty access equipment, commercial, fire & emergency and military vehicles and vehicle bodies. Oshkosh Corporation manufactures, distributes and services products under the brands of Oshkosh®, JLG®, Pierce®, McNeilus®, Jerr-Dan®, Frontline™, CON-E-CO®, London® and IMT®. Oshkosh products are valued worldwide in businesses where high quality, superior performance, rugged reliability and long-term value are paramount. For more information, log on to www.oshkoshcorporation.com.

®, TM All brand names referred to in this news release are trademarks of Oshkosh Corporation or its subsidiary companies.

Forward-Looking Statements
This press release contains statements that the Company believes to be "forward-looking statements" within the meaning of the Private Securities Litigation Reform Act of 1995. All statements other than statements of historical fact, including, without limitation, statements regarding the Company's future financial position, business strategy, targets, projected sales, costs, earnings, capital expenditures, debt levels and cash flows, and plans and objectives of management for future operations, are forward-looking statements. When used in this press release, words such as "may," "will," "expect," "intend," "estimate," "anticipate," "believe," "should," "project" or "plan" or the negative thereof or variations thereon or similar terminology are generally intended to identify forward-looking statements. These forward-looking statements are not guarantees of future performance and are subject to risks, uncertainties, assumptions and other factors, some of which are beyond the Company's control, which could cause actual results to differ materially from those expressed or implied by such forward-looking statements. These factors include the cyclical nature of the Company's access equipment, commercial and fire & emergency markets, which are particularly impacted by the pace of U.S. and European economic recoveries; the strength of emerging market growth and projected adoption rate of work at height machinery; the expected level and timing of DoD and international defense customer procurement of products and services and funding thereof; risks related to reductions in government expenditures in light of U.S. defense budget pressures, sequestration and an uncertain DoD tactical wheeled vehicle strategy, including the Company's ability to successfully manage the cost reductions required as a result of lower customer orders in the defense segment; the Company's ability to win a U.S. Joint Light Tactical Vehicle production contract award; the Company's ability to increase prices to raise margins or offset higher input costs; increasing commodity and other raw material costs, particularly in a sustained economic recovery; risks related to facilities consolidation and alignment, including the amounts of related costs and charges and that anticipated cost savings may not be achieved; the duration of the ongoing global economic uncertainty, which could lead to additional impairment charges related to many of the Company's intangible assets and/or a slower recovery in the Company's cyclical businesses than Company or equity market expectations; risks related to the collectability of receivables, particularly for those businesses with exposure to construction markets; the cost of any warranty campaigns related to the Company's products; risks related to production or shipment delays arising from quality or production issues; risks associated with international operations and sales, including foreign currency fluctuations and compliance with the Foreign Corrupt Practices Act; the Company's ability to comply with complex laws and regulations applicable to U.S. government contractors; the impact of severe weather or natural disasters that may affect the Company, its suppliers or its customers; the impact of cyber security risk and costs of defending against, mitigating and responding to a data security breach; and risks related to the Company's ability to successfully execute on its strategic road map and meet its long-term financial goals. Additional information concerning these and other factors is contained in the Company's filings with the Securities and Exchange Commission. All forward-looking statements speak only as of the date of this press release. The Company assumes no obligation, and disclaims any obligation, to update information contained in this press release. Investors should be aware that the Company may not update such information until the Company's next quarterly earnings conference call, if at all.