W.L. Gore introduces new two-layer moisture barrier
New warranties now cover products through first inspection
---
By Scott M. Bruner
FireRescue1 Product Editor
Maryland-based W.L. Gore Associates had a pair of announcements at FDIC 2010. Their introduction of a new two-layer Crosstech moisture barrier, to complement their three-layer system, was followed by an announcement about new warranties on both products.
New Two-layer Crosstech Barrier
The new two-layer system was designed to retain the same breathability of the three- layer, but with the added benefit of more durable NFPA 1851 performance.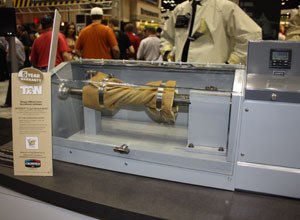 "We have 30 years of experience building new moisture barrier technologies and what the new barrier does is offer high breathability with sustained durability. It meets NFPA 1851 and is certified to NFPA 1971," Marie Smith, marketing communications and public relations for W.L. Gore, said.
The technologies in the new barrier are derived from those used in the US Army's third generation of ECWCS outerwear.
A number of displays were on hand at the Gore booth at FDIC, highlighting the barriers' performance, including a hands-on demonstration which tested the total heat loss allowed by Gore's proprietary materials.
According to Gore, their Crosstech barriers can withstand high levels of heat exposure while still delivering breathability and long-lasting protection. They also claimed to be able to save users 50 percent in repair costs if the garments are properly maintained.
Gore will continue to offer their three-layer barrier as well, designed to offer protection for firefighters who are particularly punishing to their gear.
"Fire departments have different needs, and at Gore we want to ensure that we have a full line of products that span the range of durability, breathability, performance and value," Holly Blake, Gore's North American product specialist for structural moisture barriers, said.
Warranties
In part due to the confidence they have in the durability of their barriers, W.L. Gore announced new warranties for both of their barriers. They now offer a full five year warranty on the three-layer. On the newly introduced two-layer, they offer a warranty either through the first complete liner inspection, up to three-and-a-half years. The warranty is designed to make sure the barrier is fully covered through the first liner inspection.
"Providing a three-year warranty does not really cover repairs that result from the first complete liner inspection because the warranty expires right before the inspection is normally scheduled. Therefore, we felt that it was important to extend our warranty beyond this inspection to demonstrate our commitment to the fire department using our products," Ron Bove, Gore's North American Fire & Public Safety business leader, said.
For more information on W.L. Gore's moisture barrier technologies, visit www.GoreProtectiveFabrics.com.

Request product info from top Fire Apparel companies
Thank You!