How well do you know your PPE?
Educate yourself on the materials and correct use of the gear you use for structural firefighting
---
Most firefighters are issued their interior structural firefighting protective ensemble – jacket, pants, protective hood, helmet, gloves and boots – and use it for years, never really having a good understanding of the what, why and how that went into the development of each element of the ensemble.
Let's take a tour, if you will, of the elements that make up the the protective ensemble that we commonly refer to as PPE. After reading, you should be more informed and educated about the purpose of each element of the ensemble, its correct use and its role in protecting you during structural firefighting operations.
Know NFPA 1971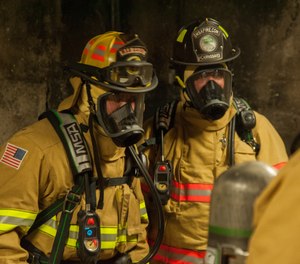 NFPA 1971: Standard on Protective Ensembles for Structural Firefighting and Proximity Firefighting (2018 edition) sets the minimum guidelines for the construction and design of your firefighting PPE. The standard also requires that each element of your protective ensemble has a compliance label that's firmly attached to the ensemble element.
Short of carrying a copy of NFPA 1971 with you or having all the documentation that originally came with your new PPE elements, whenever you inspect your PPE – and you should regularly do that – make sure the labels are still attached and legible because they are highly informative. The following information should be printed on each product label with all letters at least 1/16th of an inch (1.5 mm) in height:
The manufacturers name, identification or designation
Manufacturer's address
Country of manufacture
Manufacturer's element identification number, lot number or serial number
Month and year of manufacturer, not coded
Model name, number, or design
Size or size range
Principle materials of construction
Cleaning precautions
You can find the full list of labeling requirements in Chapter 5 of NFPA 1971, Labeling and information.
[Read Next: Do you 'own' your PPE?]
Don't overlook the annexes
A key resource contained in every NFPA standard is Annex A, Explanatory Material. Though Annex A, as well as any additional annexes for a standard, is not part of the requirements for any NFPA standard it contains information from the standard's technical committee that clarifies the committee's thought process for a particular requirement. Every annex contains explanatory material and is numbered to correspond with the applicable text within the standard. Here's an example from Chapter 6, Design Requirements:
6.4.8*: For helmets with items installed or attached, the helmet with the items installed/attached shall meet the affected design and performance requirements of this standard.
The * after 6.4.8 indicates that there is an entry in Annex A for this requirement, and that entry is:
A.6.4.8 Examples of items that might be installed or attached include, but are not limited to, the following:
Front holders for helmet identification shields
Supplemental faceshields
Other eye/face protection where goggles are provided with the helmet as the required faceshield/goggle component identified in 6.5.2
Key components for ensemble elements
The coat and jacket elements of the structural firefighting protective ensemble get a fair amount of attention, but don't overlook these other elements of your PPE. They should be inspected regularly to ensure that they can still do the job, and they should be thoroughly cleaned following exposure during firefighting operations.
Helmet components: Your helmet is designed primarily to protect your skull from impacts coming from above you. A firefighter helmet it provides less protection from side impacts. The hard cover (shell) should remain clean and free of carbon buildup, the required reflective striping should be in good condition, and any fold-down eye protection, such as a Bourke eye shield or full-face shield, should be in working order and free of fogging.
If you prefer to use goggles for eye protection and carry them on your helmet, they must be protected with a flame-resistant covering.
The flame-resistant neck shroud (ear flaps) and chinstrap must be clean and free of carbon buildup as well, and the helmet adjustment system should be in good condition.
Learn more about helmet components in Section 6.4: Protective Helmet Element Design Requirements for Both Ensembles.
Protective hood: The protective hood is designed to provide limited protection from thermal insults for the coat/helmet/SCBA facepiece interface. The introduction of the particulate-blocking hood (PBH) has significantly increased the level of protection from carbon particulates (soot) and to some degree fire gases, but the PBH remains the structural firefighting PPE element that provides the lowest degree of protection from heat and fire gases, so it's important that the neck shroud must be used in conjunction with the hood.
Your hood should always be clean and free of any carbon particulates regardless of whether it's a PBH or a legacy hood. For a PBH, it's important to regularly inspect the particulate-blocking layer to ensure that it has not been compromised.
Learn more about protective hoods in 6.13: Protective Hood Interface Component Design Requirements for Both Ensembles.
[Read Next: Is your hood the weak link in your firefighting protective ensemble?]
Eye protection: Eye protection can consist of face shields, goggles or safety glasses. Fold-down face shields only provide limited eye protection, so goggles or safety glasses should be used when there is an increased potential for exposure to airborne particles.
Structural firefighting protective footwear: The firefighter boot may be constructed of rubber or leather and can be either a slip-on or laced style. Leather boots were developed to provide a more ergonomic boot with reduced weight and have become popular for those reasons. Structural firefighting footwear should be water resistant, cut resistant, slip resistant, and made with a heavy sole and reinforced toe to prevent injury.
[Read Next: How to choose the right firefighting boot for the job]
Structural firefighting protective glove: Firefighting gloves must provide good fit and dexterity as well as thermal protection. Your firefighting gloves provide thermal protection in two ways: 1) protection from compression burn when picking up and 2) handling a hot object and protection from radiant heat, primarily on the back of the hand.
Glove manufacturers use a three-layer approach to provide thermal protection:
Outer shell made from combinations of leather, PBI, Kevlar and Nomex
Moisture barrier with Gore-Tex
Thermal barrier made with padding that is designed to trap air and provide insulation
Gloves may be short (no extended cuff) or long (with an extended cuff), depending on whether wristlets are part of your protective coat. Short gloves should never be used if your coat doesn't have wristlets. The important thing is to ensure that the interface between your gloves and your coat fully protects your skin.
[Read Next: Beyond turnouts: Your PPE checklist to keep you safe and comfortable]
PPE garments
Your jacket and coat are designed to 1) protect you from thermal hazards, 2) protect you from mechanical hazards and 3) reduce the risk of death or serious burns by giving you about 20-30 seconds of protection in the event of a flashover. So, if there's any elements of your PPE that deserve close attention on a regular basis, it's these two.
Structural firefighting protective coat and pants: The coat and pants elements of the protective ensemble are designed to provide protection to the upper torso and arms (the coat) and the lower torso and legs (the pants), excluding the hands and head. Both structural firefighting PPE elements consist of three layers:
Outer shell
Moisture barrier
Thermal barrier
The outer shell of structural firefighting protective garments is made from flame retardant material such as Nomex, PBI, Kevlar or blends using one or more of those fibers, such as PBI/Kevlar. NFPA 1971 also requires numerous reflective markers on both the coat and pants so that the firefighter can be more easily seen in the dark.
The outer shell has several key components, such as an inner zipper and outer flap, a neck, flap and wristlets. Keeping in mind that the coat and pants are only two elements of the entire ensemble, it's imperative that these components of the outer shell are present, in good working order and used at all times.
The outer shell is also required to have a drag rescue device (DRD) installed in the upper torso to aid in a firefighter rescue. Typically installed just below the collar/coat interface, and covered with a protective flap, the DRD should be in good condition and easily deployed.
The inner shell consists of a moisture barrier, like Gore-Tex, that's attached to a thermal barrier. The moisture barrier is designed to accomplish two things: 1) keep liquids that penetrate the outer shell from reaching the firefighter and 2) allow perspiration generated by the firefighter to move to the outer shell. It's important to regularly inspect the moisture barrier, especially after laundering, to ensure its integrity. The inner shell should have a label attached, ensuring its compliance with the current edition of NFPA 1971 (2018 edition).
The third, and innermost layer, is the thermal barrier. As the name implies, its purpose is to protect you from environmental heat like that found in structural firefighting. It does this by trapping air in the quilted padding, so it's critical that the barrier is intact and not worn or torn. Pay particular attention to those areas of padding where the shoulder straps and waist belt of your SCBA impinge on your coat.
Protect yourself
Each piece of your structural protective ensemble is important. Always wear your PPE in accordance with NFPA and manufacturers' recommendations because an ensemble only works if all the elements are present and worn correctly.

Request product info from top Fire Boots companies
Thank You!