Symposium educates fire service about PPE
---
Editor's note: The inaugural Fire Service Symposium in March featured some of the most prominent figures from the world of PPE. Check out our special coverage section for extensive highlights from the event.
By Jamie Thompson
FireRescue1 Editor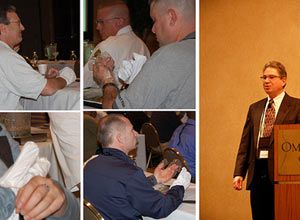 Photo Rich Young
View a slideshow from the innaugural Fire Service PPE Symposium.
Firefighters are faced with more personal protective equipment options than ever before — making it all the more necessary for them to expand their knowledge of materials and products.
Creating better awareness of PPE issues was the aim of the inaugural Fire Service PPE Symposium, which took place in Charlotte in March.
The three-day event attracted more than 200 people, including prominent figures in the arena of PPE from the fire service and manufacturers.
Robert Tutterow, vice president of the Fire Industry Equipment Research Organization, which organized the event, said the symposium was a landmark event for the fire service.
"Historically there's only been a small group of people that are really knowledgeable about all the aspects related to PPE," he said. "So now we have to try to get the grass-roots knowledge base out there in the field."
PPE users who attended the symposium left with a better understanding of why equipment is designed the way it is, how to properly maintain it when they get it and what developments are in store for the future, according to Tutterow.
"This knowledge has to be shared, especially from the perspective of the user," he said.
Sessions at the event covered various aspects of PPE, including design, performance,
testing and certification, storage, cleaning and repair and maintenance.
The creation of the symposium was driven by growing awareness within the fire service — and in particular members of NFPA 1971 Technical Committee on Structural and Proximity Fire Fighting Protective Clothing and Equipment — of the need for additional education about protective clothing and equipment, Tutterow said.
"I think the fact we put on the symposium proves that we certainly have an increased awareness of personal safety in the fire service, " he said.
Through his involvement with FIERO, Tutterow has been a leading organizer of fire service symposiums.
He said the PPE event, which took place March 9-11, proved to be one of the most successful in terms of feedback.
"I have never had one where we've received so many e-emails complimenting the entire event, from the speakers to the content," he said.
Tutterow said the next Fire Service PPE Symposium should take place in 2011. 

Request product info from top Fire Boots companies
Thank You!