Your dogs barking after a long shift? It could be your boots.
Comfortable and durable structural firefighting boots are essential to avoid foot pain after a long shift.
---

By Robert Avsec
Firefighters are at elevated risk for overuse injuries to the feet and ankles. Such overuse injuries could be the result of flat feet, fallen arches or improperly fitting footwear (e.g., structural firefighting boots).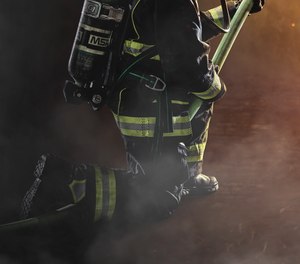 Firefighters are also subject to foot pain because of the amount of walking, running, and climbing they do regularly as part of their duties. What firefighter's "dogs" (feet) haven't been "barking" (hurting) when they return to the fire station after spending several hours working in their structural firefighting boots.
A common cause of foot pain
Plantar fasciitis is one of the most common causes of heel pain and its source is the inflammation of a thick band of tissue that runs across the bottom of your foot and connects your heel bone to your toes (the plantar fascia).
Most plantar fasciitis sufferers experience a stabbing pain that usually occurs with their first steps in the morning. Once up and moving around, the pain normally decreases, but it might return after prolonged periods of standing, walking, running, or when standing up after sitting for a period.
Though an individual can develop plantar fasciitis without an obvious cause, there are some factors that can increase your risk of developing this condition including, but not limited to, the following:
Age. Plantar fasciitis most commonly affects individuals between the ages of 40 and 60.
Certain types of exercise. Activities that place a lot of stress on your heel and attached tissue (e.g., long-distance running or walking) can contribute to the onset of plantar fasciitis.
Foot mechanics. If an individual has flat feet, a high arch, or even an abnormal pattern of walking it can affect the way weight is distributed when they're standing and can put added stress on the plantar fascia.
Obesity. Excess pounds put extra stress on your plantar fascia.
Occupations that keep you on your feet. Factory workers, teachers and others who spend most of their work hours walking or standing on hard surfaces can damage the plantar fascia. Sounds like a firefighter walking around in their structural firefighting boots on an emergency scene or on concrete floors back at the fire station, no?
Preventing Plantar Fasciitis
First is taking note of those five previously mentioned causes and taking appropriate action where necessary. Here are four additional preventative actions that can help reduce the risk of developing plantar fasciitis:
Research shows that both strengthening and stretching exercise programs, including stretching the Achilles tendon, can significantly reduce pain and improve walking in people with plantar fasciitis. Firefighters should use these strengthening and stretching exercises after physical training and after they've spent considerable time working in their structural firefighting boots.
Wear the proper footwear and orthotics for your activities
Learn the acronym R-I-C-E—Rest, Ice, Compression (using an elastic bandage wrap), and Elevation (of the affected area) to decrease inflammation of the plantar fascia.
Visit a foot care specialist at the first sign of foot pain to get an evaluation to see what's causing the pain (I did this after experiencing a couple of episodes of plantar fasciitis and learned that I needed fitted orthotics because my arches were flattening out because I was 52 years old—a common occurrence).
Good structural firefighting boots can make a difference
The introduction of leather structural firefighting boots, and hybrid boots using leather and aramid fabrics (e.g., Kevlar, Nomex, PBI blended fabrics), has made a significant difference in the comfort and wearability of those boots on emergency scenes. MSA's Globe products has been on the forefront of this evolution in structural firefighting boots with its line of Athletic Footwear for Firefighters (because aren't firefighters tactical athletes?).
MSA's comprehensive line of Globe Athletic Footwear for Firefighters includes six models that give firefighters—both men and women ─ structural firefighting boot options that are not only comfortable and durable, but affordable as well.
All Globe structural firefighting boots are compliant with NFPA 1971 (Structural Fire Fighting) and NFPA 1992 (Liquid Splash).
The table below provides a quick features comparison between these six models in MSA's line of Globe structural firefighting boots:
FEATURES

SUPRAFLEX 14"

SUPRALITE 14"

SUPREME
14"

SHADOW XF 14"

ONYX
13"

STRUCTURAL 12"

Women's Sizes

Yes

Yes

Yes

Yes

Yes

Yes

Composite Puncture Barrier

Yes

Yes

 

Yes

Yes

Yes

Yes

Vibram Arctic Grip Option

Yes

Yes

 

Yes

Yes

Yes

No

High Visibility Trim

Yes

Yes

 

Yes

No

No

No

Made In USA

Yes

Yes

 

Yes

Yes

Yes

Yes

Kevlar Blend Shield

Yes

Yes

 

Yes

Yes

No

Yes

Outer Materials

Leather
DRAGONHIDE fabric

Leather
DRAGONHIDE fabric

Leather
DRAGONHIDE fabric

Leather
DRAGONHIDE fabric

Leather

Leather

Wide Calf Model in All Sizes

Yes

Yes

 

Yes

Yes

No

No

Vibram Toe Bumper

Yes

Yes

Yes

Yes

Yes

Yes

Shin Protection

Foam padding

Padded composite shin guard

Padded composite shin guard

Padded composite shin guard

Padded composite shin guard

No

Vibram Contoured Cup Outsole

Yes

Yes

Yes

Yes

Yes

Yes

GORE CROSSTECH Footwear Fabric

Yes

Yes

Yes

Yes

Yes

Yes

Pull On

Yes

Yes

Yes

Yes

Yes

No (Lace up)

Height

14"

14"

14"

14"

13"

12"
All the great qualities, as described above, are available in sizes 5-12 and widths of Medium, Wide and Extra Wide.
Regardless of your choice of Globe structural firefighting boots, you can be assured that the boots you put on your feet are going to be good to your feet, no matter how much walking or climbing you must do on the emergency scene. As discussed earlier in this piece, having the proper footwear is a key factor in preventing plantar fasciitis. And it will keep your "dogs" from "barking!"

Request information from Witmer Public Safety Group, Inc.
Thank You!