Cool alternative: TECGEN XTREME non-structural turnout gear
Lightweight fabric designed to keep firefighters cool during non-structural fires
---
By Scott M. Bruner
FireRescue1 Product Editor
Selecting the right turnout gear for any fire mission can be a daunting task, especially considering the dangers firefighters may face. Weighing the level of necessary protection against the risks of heat stress is crucial.
Texas-based Ashburn Hill Corp. (AHC) has released a new line of turnout gear, TECGEN XTREME, to lower the amount of heat stress experienced during non-structural responses.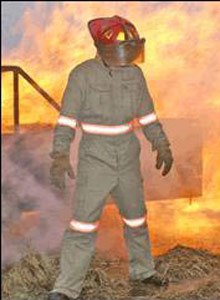 "TECGEN XTREME protective apparel is here to give an alternative to full turnout gear, expand its lifespan and also to reduce the hazards of heat stress," Todd Herring, vice president of the fire division for AHC said.
TECGEN XTREME is single layer turnout gear, available as a lightweight coverall or jacket and pants combination, designed to minimize heat stress while providing adequate protection in up to 75 percent of firefighting responses.
The gear has been developed to specifically provide protection where full turnout gear is not necessary, and may be too bulky, but heat exposure remains a very real threat. Heart attacks caused by heat stress are the leading cause of firefighter death, according to the US Fire Administration.
In Thermal Protective Performance tests, TECGEN XTREME scored an 18.7, which is 87 percent higher than the minimum requirement. According to AHC, it provides three times the total heat loss of standard turnout gear.
"I have been wearing coveralls made from this material for quite some time now, and I have been very pleased with their performance. They have been lightweight and easy to wear, even in the south Texas heat and humidity. I feel this material will protect me in many of the hazardous situations that I may encounter." Robert C. LaCour, Jr., Station 2 captain of the Cy-Fair Volunteer Fire Department in southern Texas, said.
The gear can be used for a variety of applications where full turnout gear may not be necessary, including technical rescue, extrication, and motor vehicle accidents. It has met NFPA standards for both wildland firefighting (NFPA 1977-2005) and for technical rescue ensemble (1951-2007).
"Currently, there aren't many products in the market that can meet both of these specifications without additional layers for protection," Jon Heard, president and chief executive officer of AHC, said. "We are thrilled to bring a product to market that can provide needed protection without the added bulk."
TECGEN XTREME protective apparel is available through Ashburn Hill Corp. For more details, call 888-607-8883, e-mail info@tecgenfr.com, or visit the TECGEN XTREME Web site at www.tecgenxtreme.com.

Request product info from top Fire Jackets and Coats companies
Thank You!