Gearing up: Honeywell First Responder's Ranger Combat Ready Bunker Gear
Morning Pride manufacturer offers new economic line of turnout gear
---
By Scott M. Bruner
FireRescue1 Product Editor
Honeywell First Responder Products has released a new line of turnout gear, in line with their already well-established Morning Pride brand, but at a much more economic rate. Ranger Combat Ready Gear has been designed as the light-weight version of the Morning Pride turnouts, without sacrificing the high level of protection of the older line.
"We've taken many of the things in our Morning Pride line and incorporated them into the Ranger Combat Ready Gear, to put into an economy line," Brian Blinn, vice president of sales for Honeywell, said. "Mobility, quality, and protection are the biggest features of the Ranger Combat Ready Gear. The same people with years of experience in designing our Morning Pride line are the same people working on Ranger Gear."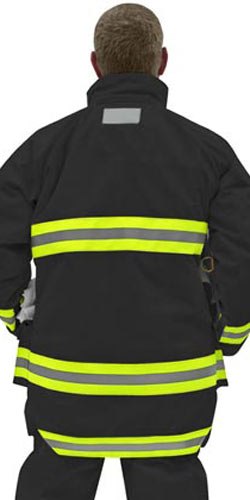 The new line is made in the same factory as Morning Pride turnouts, while providing a significantly lower price. The main design features of the Ranger Combat Ready Gear were to make it lightweight and to focus on comfort, while not sacrificing protection. Though Honeywell boasts it is able to maintain similar levels of protection, the new gear is approximately $300 less than Morning Pride turnouts.
"We found ways to reduce weight without compromising safety or comfort," Alan Schierenbeck, garment product manager for HFRP said. "We wanted to produce a set of gear that protected firefighters from the heat of the blaze as well as from the stress on the body caused by the exertion needed to fight it. With the leading cause of line of duty deaths being heart attacks, firefighters need gear that works with them, not against them."
Specific features of the new turnout gear include: tails, chinstrap, a Velcro closure, and an articulating Rapid Rescue strap on the coat. The pants include a motion cut, a narrow pant fly and two Postman take-up straps. Both include detachable liners. Every set of Ranger Combat Ready gear is individually tailored for the firefighter. There are a number of options offered as well including trim, flag patches, reflective lettering and a variety of pocket, clip, and hook options.
The new line of gear was released the final week of January and will be certified according to NFPA 1971, 2007 standards.
To order or for more information and pricing, contact your local Honeywell First Responder Products dealer or call (800)688-6148. Honeywell First Responder Products is a team of fire service technical marketing professionals representing a wide range of products for emergency services.

Request product info from top Fire Jackets and Coats companies
Thank You!