Black Diamond introduces new fire boot at FDIC
The X2 features both heel counter and ankle lock
---
By Scott M. Bruner
FireRescue1 Product Editor
New boots were one of the hottest commodities at FDIC in Indianapolis, and PPE manufacturer Black Diamond wasn't left out of the action. They introduced the new X2 boot, with plenty of intriguing features, that is set for a September release.
"There's nothing else like it in the marketplace due to its unique features," Rob Mills, president of Black Diamond, said. "The combination of the heel counter and the ankle lock are really what makes it special."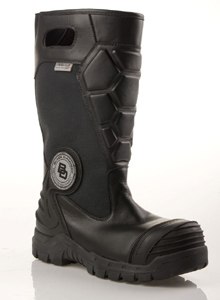 The boot features an exclusive three-point heel and lock system for a secure fit. The boot's locking system is designed to increase the life expectancy of the boot, protect against ankle rollovers and sprain and to hold the foot in place instead of floating around. The X2 not only has a molded rubbed toe piece, but also has a rubber heel counter.
Mills pointed to a number of other features of the boot that he feels set it apart from a rather crowded footwear market.
The X2 has a wide calf fit system which is fire retardant. The elastic on the top of the boot can be expanded to accommodate larger calves. It features a Crosstech membrane with Omaha lining, which was originally invented for military applications.
The lining is constructed of stitch-down "Stroble" lining designed to protect against liner pullout. Another Black Diamond specialty, the X2 features an Ortholite footbed, which includes a multi-fit, removable footbed with TPU heel cradle, designed not only for comfort and shock absorption but also to guard against odor.
The built-in boot jack allows the boot to be put on and removed quickly and easily.
Finally, the X2 has two removable additional layers in the midsole which can be removed or replaced to make the boot medium-sized, wide or even extra wide.
Though it was certainly a crowded field for new boots at FDIC, according to Mills, the reaction to the X2 at the Black Diamond boot was strong.
"We fit over 2,000 firefighters, fire chiefs and decision makers with the X2 at the show and we were able to provide a comfortable fit for everyone. It's a great indicator the technology is spot on and the end user will love it," he said.
Black Diamond is one of the top manufacturers of fire boots. Their boots are in service daily with fire departments from around the world in countries from Brazil to Thailand as well as the United States. You can find them on the Web at www.blackdiamondfootwear.com.