Honeywell releases new harness at FDIC
Other new products include lightweight, hybrid boot
---
By Scott M. Bruner
FireRescue1 Product Editor
Honeywell First Responder Gear, known for their Morning Pride line of turnout gear, had a number of products debut at FDIC in Indianapolis.
Class II Spider Harness G Model
The first was the release of a new version, the G model, of their Class II Spider Harness. The Class II Spider Harness has been one of the more innovative products on the market because its adjustable leg loops and external mount allows it to be adjusted on the fly.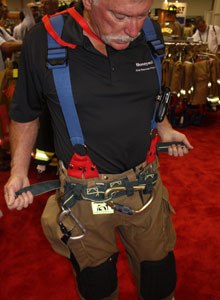 "The most intriguing feature of the Class II is that it has one feature that no other one has had before and the patent is pending. It's the only harness that's mounted externally at the waist," Alan Schierenbeck, fire garment product manager, said. "The crux is that it's quickly and easily adjustable. You can tighten the leg straps at will and it's ready to go. It's just as easy to loosen them – that's never been available."
The G model extends the A frame and has a hardware keeper with a true A frame. Without the leg loops, it's fully certified as a ladder belt. Other features of the Class II Spider Harness include a right-over-left closer with an internal zipper, and a harness closure mounted to the pant with the D-Ring on the fly and a snap hook on the left front pant panel.
"This is the ultimate version. It's designed to compete across boundaries in markets regardless of where or who makes it," Schierenbeck said.
New Boots
New boots seemed to be one of the hottest ticket items at FDIC with many manufacturers releasing new versions of footwear. Honeywell updated their line with a trio of lightweight boots..
Hybrid Boot
The first was the "Hybrid" Model 4200, made from a combination of Vibram in the foot and Nomex in the shaft. At only 4.9 pounds, it is the lightest firefighting boot on the market.
"The 4200 has a racer sole and an athletic construction. It's more bendable and comfortable out of the box and there's no breaking-in period with it," Diane Bible, vice president of protective footwear for Honeywell, said. "It's the first boot that's taken rubber to use in the foot section of the boot which is why we call it a hybrid. It's perfect for structural firefighting."
Proximity Boot
Their second release was a new all-leather ARFF boot still looking for a model number. Like all of Honeywell's new boots, it's designed to provide a lighter option. It's all leather and certified to meet NFPA 1971. According to Honeywell, it's the first of its kind.
Rubber Boots
Finally, Honeywell is releasing a new series of rubber boots with no seams at all in the construction. They're modeled after muck boots with a high traction sole and, like the other new additions to Honeywell's catalog, are lightweight at only 6.4 pounds.
"What's innovative about the rubber boots is that they're lightweight with an athletic sole and they're seamless," Bible said.
For more information on Honeywell First Responder Products, you can find them on the Web at www.HoneywellFirstResponder.com.