September 2008 Product Round Up: Footwear
---
FireRescue1 is focusing on news and information about Footwear products throughout the month of September, 2008. Check out some of these great Footwear products currently on the site:

https://www.firerescue1.com/ad/?id=10730&sid=9400&from=2684Bates presents the CT-8 8" Durashocks Crosstech® Side Zip Boot

The CT-8 offers an entirely new level of protection with Crosstech® fabric by Gore-Tex®. The CT-8 is liquid penetration resistant and features the Durashocks® Comfort Technology backed by our 30-Day Comfort Guarantee. Made with full grain leather and a ballistic nylon upper, this 8" boot has a side zip that makes this boot easy to take on and off. When it comes to ultimate footwear protection, the CT-8 is there for your feet. For more information, visit www.batesfootwear.com or call 1-800-253-2184.

Structural Series 12" Zipper/Speed Lace Boot from Globe FootGear

The Globe FootGear Structural Series 12" Zipper/Speed Lace Boot is NFPA 1971 (Structural Fire Fighting) and NFPA 1992 (Liquid Splash) compliant. FIRESTORM™ Leather Heavyweight, flame-resistant and waterproof leather for durable performance. Leather has added reflective material at the heel for added nighttime visibility. Specially softened tumbled leather in high flex areas to move with you. For more information, visit www.globefiresuits.com/footgear or call 1-800-232-8323.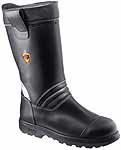 Fire Hunter® AF from HAIX North America, Inc.

The Fire Hunter AF features flexible elastic components that enable problem-free donning and the self-adjusting ankle and instep areas provide optimum fit in the boot. Integrated flex-zones ensure high flexibility for the most stressfull jobs. The Fire Hunter also includes the HAIX® rubber sole which has non-slip tread, slip resistance, and is self-cleaning. The boot has optimal cushioning when walking with a comfortable rolling movement due to heel and toe spring construction. Meets NFPA Standards-UL® independent testing, Structural Firefighting 1971-2000 Edition. Also meets all ANSI, OSHA, and CAL-OSHA Standards. For more information, visit www.haix.com/usa or call 1-866-344-4249.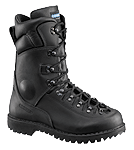 Cosmas Releases the Hercules 9" Mountaineering Boot for Wildland Fire Fighting

Cosmas has released the Hercules 9" Mountaineering Boot; the first true mountaineering boot designed for wildland firefighting. The Hercules has several features that set it apart from the rest of the field. The Cosmas Ankle lock System utilizes a free-floating support strap, positioned above the ankle, which improves ankle support, and helps keep the heel in the heelcup, reducing the chance of blisters. Cosmas MidsoleArmor combination features a combination composite puncture plate/ladder shank/midsole, providing full puncture resistance coverage and thermal insulation for the bottom of the foot. This exclusive construction is stiff and supportive in the heel and arch, yet flexible in the forefoot, allowing your foot to flex naturally. For more information, visit Cosmas USA or call 1-603-758-6486

Gunnison Bunker Boot from LaCrosse Footwear

Introducing the world's first bunker boot with a kevlar midsole; the Gunnison Bunker Boot. Amazingly lightweight and exceedingly tough. Features the new slip-resistant Vibram Fire and Ice outsole that performs at both temperature extremes; a featherlight, puncture-resistant midsole; a Kevlar/Nomex upper for unheralded fire-resistant protection; CROSSTECH® protection from Gore® and stitchdown re-soleable construction. Union-made in the USA. For more information visit, www.lacrossefootwear.com or call 1-800-323-2668.


For more information on Footwear products, visit the FireRescue1 Footwear Product Section at www.firerescue1.com/fire-products/apparel/footwear.