Station boots: What firefighters should know before purchase
Before you buy your next pair of station boots, understand the standards and different features – your feet will thank you
---
Any structure is only as good as its foundation. The same can be said for firefighters and their feet. 
Long hours on the job, miles logged on hard floors and exposure to a multitude of physical hazards — both around the fire station and on the scene of emergencies — can really take their toll on the feet.
Since the majority of a firefighter's daily tour of duty is spent wearing station work boots, selecting the proper work boots and properly caring for them will help make for happy feet.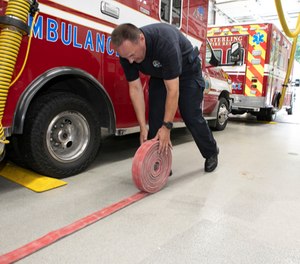 Boots that comply
Start by ensuring the boots you select comply with the requirements outlined by the Occupational Health and Safety Administration. OSHA Regulation 1910.136 states that employers must provide protective footwear for employees who work in areas where there is a danger of foot injuries due to falling, rolling or piercing objects and in areas where their feet are exposed to electrical hazards.
OSHA recommends American Society for Testing and Materials guidelines for protective footwear. Keep in mind that OSHA sets the guidelines, but does not engage in any testing of products.
Choose your protective footwear from those that comply with the ASTM Standard F2413-05 (formerly the American National Standards Institute's Z41-1999). This standard covers minimum requirements for the design, performance, testing and classification of protective footwear.
Footwear certified as meeting ASTM F2413-05 must first meet the requirements of Section 5.1 Impact Resistant Footwear and Section 5.2 Compression Resistant Footwear.
Mark of a good boot
Protective footwear can meet all of the requirements of the ASTM standard or specific elements of it, as long as it first meets the requirements for impact and compression resistance. All footwear manufactured to the ASTM specification must be marked with the specific portion of the standard with which it complies.
One shoe of each pair must be clearly and legibly marked (stitched in, stamped on, pressure-sensitive label, etc.) on either the surface of the tongue, gusset, shaft or quarter lining.
The letters F2413 reference the performance requirement for foot protection. The additional digits following the standard designation indicate the year of the standard to which the protective footwear complies. For example, 05 refers to 2005.
Work boots, including station work boots, are tested to meet one of two units of measurement for impact rating. The rating, either 50 or 75, is determined by dropping a weight from a predetermined height at a designated speed on to the toe cap. I/50 rated footwear will protect the toes from an impact of up to 50 foot pounds while an I/75 rating means the boot will protect the wearer's toes from an impact of up to 75 foot pounds.
The compression test is conducted by applying a sustained load up to the designated number of pounds before the toe cap begins to crumple or crack. Safety-toe boots are tested to meet one of two units of measurement for compression rating. C/50 rated footwear will protect the toes from compressive loads up to 1,750 pounds, and C/75 rated footwear will protect the toes from compressive loads up to 2,500 pounds.
Steel or composite toe cap?
Steel-toe boots are a common work boot choice because they've been around longer and are typically less expensive than boots with composite toe caps. The compression amount that steel-toe boots can resist differs depending on the company creating the footwear, the industry standards and the demand of the buyers.
Safety footwear manufacturers using composite materials, such as polymers, in the toe box because of their strength is comparable to steel and the weight reduction that those materials provide. They still meet the minimum requirements for OSHA, but may be up to 30% less heavy than steel-toed boots. 
Consumers also point to another positive: composite materials do not conduct heat like steel, so more heat is kept within the boot during winter months when the weather is colder.
Other considerations
Both steel and composite shoes and boots are manufactured to do more than keep the toes safe from compression. Steel-toed shoes and boots can be made with an extra plate that goes beyond the toes to protect the bones of the foot.
Static dissipative and conductive shoes protect against static electricity along with protecting the toes. Work boots and shoes with electrical hazard resistance help to protect against dangerous wires and open electrical circuits. Slip-resistant and puncture-resistant boots also protect against slippery surfaces and the danger of punctures from nails and other sharp objects.
Wildland firefighter boots
These days it seems like more and more firefighters are seeing action in the wildland-urban interface (WUI). If this describes your department, it may serve you well to look at station work boots that incorporate some of the features particular to that genre of safety boots. 
Sturdy leather uppers 8- to 10-inches high, lug soles and breathable vapor barrier linings are examples of such features that wildland firefighters depend upon.
In the words of a veteran fire boss, "Take care of your feet. They're your money-makers." 
This article, originally published in 2012, has been updated.