PRESS RELEASE
American Fire Apparel Athletes at World Firefighter Combat Challenge
---
The Scott Firefighter Combat Challenge®  annually attracts hundreds of U.S. and Canadian municipal fire departments at more than 25 locations and is now expanding to countries around the world, including New Zealand, Germany, Argentina, Chile, and South Africa.
The Challenge seeks to encourage firefighter fitness and demonstrate the profession's rigors to the public. Wearing "full bunker gear" and the Scott 5.5 Air-Pak breathing apparatus, pairs of competitors race head-to-head as they simulate the physical demands of real-life firefighting by performing a linked series of five tasks including climbing the 5-story tower, hoisting, chopping, dragging hoses and rescuing a life-sized, 175 lb. "victim" as they race against themselves, their opponent and the clock.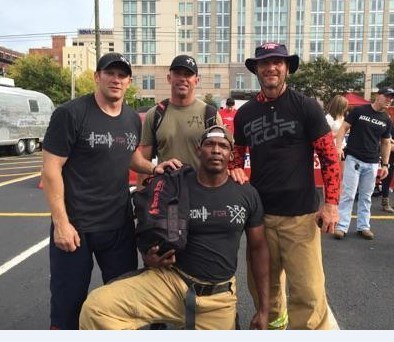 Several American Fire Apparel sponsored athletes competed at the 2015 World Firefighter Combat Challenge- Their times are as follows:
Russell Krasnesky
Finished 26th open male 1:27:33
1st over 45 Set new world over 40 and over 45 @ 1:22:20
1st  over 40 Tandem @ 1:12:16
3rd in Male Tandem  @ 1:11:27
10th Co-ed Tandem  @ 1:36:28
Jeff Vater
Finished 27th in the open male division with a 1:27:56
Finished 10th in Male tandem @ 1:13:88
Clarence Parks
new PR of 1:31:08 Finished 6th in Chief Division 63rd open male division
Joe Queen
Finished with a new PR of 1:35:26 This was only his 4th race ever. Looking for big things from this young man next year.
Adam Evans
New PR 1:44:17 Finished 31st in over 40 division 107th in open male division
Chris Zach
new PR 1:44:73 Finished 110th in open male division
Clarence and Russell joined a new category for competitors this year. The Hybrid Relays. Set a new world record of 1:11:70 And finished 1st for world champs in Hybrid. 
Here is info about the event: http://www.firefighterchallenge.com/
About American Fire Apparel
American Fire Apparel designs unique and modern apparel for fire athletes and masters of their craft.  
Established in 2014, American Fire Apparel promises to provide high quality clothing and gear that reflects the spirit of hard working, dedicated fire professionals associated with the fire service brotherhood.
AFA motivates the athletic firefighter and promotes a powerful life style. Every firefighter vows to better serve, protect, and master the art of firefighting. American Fire Apparel believes physical fitness directly impacts the demanding career of a tough and masterfully skilled firefighter.
Thanks to our partners Cellucor Public Safety, Brute Force Training,  BlastMask, and Box Alarm Training.