PRESS RELEASE
American Fire Apparel offers a Chance to Win an Ultimate Firefighter Fitness Pack!
---
American Fire Apparel is currently holding a sweepstakes for an Ultimate Firefighter Fitness pack that includes:
75lb. Brute Force Sandbag
3 American Fire Apparel shirts of your choice
One BlastMask
4lb. Cellucor Public Safety Protein
1 container of Cellucor Public Safety Alpha Amino powder
1 containder of Cellucor Public Safety C4 Preworkout powder
Enter the giveaway HERE or visit AmericanFireApparel.net to check out their complete line of firefighter apparel.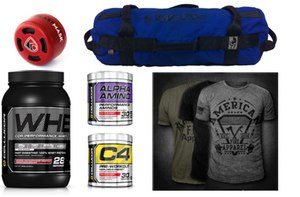 About American Fire Apparel
American Fire Apparel designs unique and modern apparel for fire athletes and masters of their craft.  
Established in 2014, American Fire Apparel promises to provide high quality clothing and gear that reflects the spirit of hard working, dedicated fire professionals associated with the fire service brotherhood.
AFA motivates the athletic firefighter and promotes a powerful life style. Every firefighter vows to better serve, protect, and master the art of firefighting. American Fire Apparel believes physical fitness directly impacts the demanding career of a tough and masterfully skilled firefighter.
Thanks to our partners Cellucor Public Safety, Brute Force Training,  BlastMask, and Box Alarm Training